You'd be forgiven for laughing if I said Mithun Chakraborty is the only saving grace of any film, but that's true for Aaditya Datt's Dil Diya Hai. The actor is the only one who has put in a good performance.
Dil Diya Hai stars Emraan Hashmi, Ashmit Patel and newcomer Geeta Basra. Although it initially appears to have a different story line, it ends up being as repetitive as any of Emraan's old films. Be it Aashiq Banaya Aapne or Aksar, they all feature similar wardrobes (jeans and a smart jacket), a foreign locale and a Himesh Reshammiya soundtrack.
The Hashmi package -- his look, the way he emotes, the poses, the way he walks during the songs, the glances he gives his heroine -- is all so similar that you wonder if you are watching a new film at all. The only thing missing here are his famous lip-locks. It now remains to be seen if people will still flock to see his films, minus the kissing. 
The tale begins in London, where Saahil (Emraan) is a tour guide who cons clients to make an extra buck. He needs the money to pay for a lung transplant for his mother. Enter Neha (Geeta), who is visiting London with her family. She forgives Saahil easily even though he tries to con her. Not just that, she plays a prank on him and goes clubbing with a complete stranger. Then comes the inevitable. She misses her train to Scotland and is left alone with Saahil.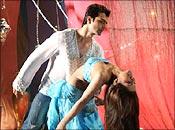 Even though his mother is on her deathbed and he needs to arrange money for the operation, he agrees to drive her to Scotland. On the way, she eats a sandwich and starts throwing up. They land up at Ronnie's (Mithun) house, where Saahil drinks himself silly. The next day, after dropping Neha off, he finds out about his mother's deteriorating condition. He gambles, but fails to come up with the money. He remembers that he was once given a proposition to sell girls. Remember the Robert Redford-Demi Moore film Indecent Proposal?You will find similar scenes here. In his crisis, he accepts the proposal, abducts Neha and sells her for enough money to get his mother operated.
Neha has been sold to Kunal Malik (Ashmit), a brothel-owner hunting for some Indian skin. The only truly emotional moment is when you see a helpless Neha cuddled on a sofa, crying as she realises her love has thrown her into such a predicament. Apart from this one scene, Geeta Basra has nothing to offer in terms of acting. Meanwhile, Kunal has bought her as a prostitute, but ends up falling in love and wanting to marry her. Then comes the climax...
Alhough the film has a different plot, the half-baked screenplay and characters mar it. Aaditya hasn't progressed beyond his last, Aashiq Banaya Aapne. Cinematographer Attar Singh Saini fails to do justice to the beautiful locales. Himesh's music is strictly okay, while Ashmit fails to evoke any hatred. Finally, Geeta Basra looks good, but that's about it.
Rediff Rating: