Helped by a smart trailer and the runaway video success of its predecessor, Lage Raho Munna Bhai drew more than a decent number of audiences in North America and the United Kingdom this week.
Unlike Munna Bhai MBBS, which was a dismal flop overseas, the new Sanjay Dutt and Arshad Warsi comedy directed by Rajkumar Hirani, is going to be one of the top earners of the year abroad.
It has already grossed $1 million in five days in North America and about $600,000 in the United Kingdom. It is the first clear hit for Sanjay Dutt in North America. The movie could end up with a strong $3.5 million on both sides of the Atlantic.
While a raft of recent movies including Aap Ki Khatir have bombed abroad, the success of the new Munna Bhai is another addition to an impressive Hindi film hit list this year.
The list is led by Kabhi Alvida Naa Kehna, the only Hindi language film to have a gala presentation at the Toronto International Film Festival this week. The Karan Johar film has grossed $3.2 million in North America and $4 million in the United Kingdom in four weeks, eclipsing the mighty gross of his Kabhi Khushi Kabhie Gham by about 20 percent. The movie is expected to play for another two weeks.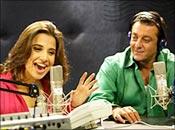 With Rang De Basanti and Fanaa each grossing about $4 million in the lucrative territories in the UK and North America, and Krrish grabbing over $2.2 million, the year 2006 has emerged as a very strong year for desi movies abroad.
And yet, at least in North America, KANK has no chance of coming anywhere near the $5.2 million gross taken by Deepa Mehta's Water. Much of the film's success came from non-desi audiences. The sleeper hit of the summer was released in America nearly eight months after its Canadian release and received some of the year's best reviews so far from mainstream critics.
As Lage Raho goes into the second week in some 60 theatres in North America, KANK is still showing in some 30 theatres. Meanwhile, Vishal Bhardwaj's surprise hit Omkara is ending its run in North America with a $1.4 million gross. It has taken half that amount in the United Kingdom.
"Give our viewers sophisticated films and they will turn them into hits in no time," says Bharat Jotwani, a big name in the North American entertainment world. "But don't take the audiences for granted. They can be very, very selective."