Bhaskar's first Telugu film, the hugely successful Bommarillu, may go on to make box office history. The film has also received rave accolades from the Telugu industry.
Bhaskar has proved that a good, clean script combined with hard work -- the film took one-and-a-half years to complete -- will work wonders with film goers. Now, this young man from Vellore (Tamil Nadu) wants to set the silver screen ablaze with his stories.
At the same time, Bhaskar remains modest. Grateful for Bommarillu's success, he offered his hair to Lord Venkateswara at Tirupati.
A student of the Adyar Film Institute, Chennai, Bhaskar has assisted in Dil Raju's hit productions, Arya and Bhadra. Post Bommarillu, he is busy penning his next script, which will also be produced by Dil Raju.
His other dreams? He wants to direct Amitabh Bachchan, Shah Rukh Khan and Aamir Khan.
Bhaskar talks about his super-hit Bommarillu and shares his cinematic journey with Radhika Rajamani.
Excerpts: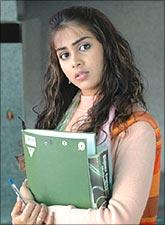 How does it feel to have tasted success with your debut film?
I am very happy that the audience identified with Bommarillu and appreciated it. I am satisfied with the response. It made me forget the hard work I put in.
I never felt the pressure as the expectations were with Raju (who has delivered three hits in a row). After the success of Bommarillu, however, I feel more responsibility has been thrust on me.  
What made you make Bommarillu? Was the father-son relationship autobiographical and inspired by your surroundings?
I wrote a one-line story way back in 1997. Over time, I built upon the father-son relationship and wrote a few more versions of the story. I lived with it for a long time because I wanted to make it interesting.
When we decided to make the film I wove in the love angle as I felt that the relationship between father and son comes out because of the girl. I discussed the story with friends and finetuned the whole thing in three months. It is, to some extent, autobiographical.
How did you decide to make your debut with a Telugu film?
I am from Vellore (Tamil Nadu). After my graduation, I joined a film institute in Chennai. When I finished the course, I came to Hyderabad.
Editor Mohan's son Raja (director of Something, Something Unakum Enakum) was my classmate. Since I'm close to them, I came to Hyderabad through them. 
I have been here for the last few years and am familiar with the Telugu film industry.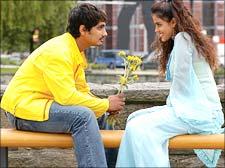 How did you decide on the cast for Bommarillu?
Siddharth suits the character of the hero as he has the required body language and get-up.
I couldn't think of anyone but Prakash Raj to play the hero's father; he fits the role to a T.
I forced Jayasudha to act as the mother even though it was not a big role.
We thought of taking a fresh face for the heroine. Genelia's name came up. Many people were not in favour of casting her. But, since I did not have much time time, I met her. I liked her eyes. Besides, she had the homely look I wanted. She is also naturally she is vivacious. I saw her energy and decided to take her in.
You have brought out the best from the cast.
Though this is my first film, I have worked in the industry and can handle situations. I did it in a cool way and Raju is responsible for this.
Siddhu (Siddharth) is a close friend and we had a jolly good time on the sets. There were no ego clashes.
Siddharth has himself scripted a film and worked as assistant director, besides being an actor. Were there any contributions/ value additions from his side?
There were no suggestions from him on the script front. Once Siddhu knew the story, he believed in it. On the sets, he would do the scenes in four-five ways. He took a lot of care while dubbing.
It seems Siddharth did a shot for three-and-a-half minutes in a single take?
Yes. I couldn't say anything; I just watched mesmerised. The producer had to say cut. It was a very emotional scene; I cried after that. It was a brilliant portrayal. Quite a few people in the unit told me after that scene that the film will do well.
Do you consider yourself fortunate to have teamed up with Dil Raju? How is the rapport between you?
Yes, I am fortunate to work with him.
I worked on the sets of Arya as Sukumar was a friend. After that, Raju said he would offer me a film to direct.
He is very friendly on the sets. There is no producer-director feeling. He's very cool. We would get back our energy looking at him; the tension and pressure would vanish.
I narrated this story (old version) on the sets of Bhadra. He told me Siddharth had the dates and suited the character. It was sheer coincidence.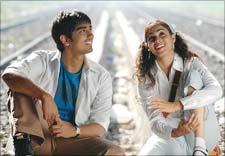 Did you anticipate this kind of success?
I knew the film would be successful but didn't anticipate it would be a superhit. I didn't anticipate the commercial success and the critical acclaim it has got.
Top directors and film personalities like Rajamouli, Allu Arvind, Editor Mohan, Ravi Teja, Arjun, Prabhas, NTR have called me and complimented me. What made me very happy was the call from Bapu. I was touched because it was a big thing.
Now, people in the Tamil industry are arguing over the remake rights?
I didn't expect the film would be remade in Tamil. I told the producer he has to take the decision. I don't want to remake the Tamil version.
For one-and-a-half years, I lived with Bommarillu. Making it again would mean no excitement. I have to be excited to do a project. I hope the (Tamil) film will be directed by somebody who will do a good job.
What are your future projects?
I wanted to take some rest after the Tirupati trip but I am not. I am working on a script -- a youth-based story -- that will also be produced Dil Raju. The story is in the initial stages and it's too early to talk about it.
What prompted you to get into films?
My sister ensured I read books and sent me to the library right from my Class I days. So I used to read a lot. By the time I was in Standard 10, I started writing bits and pieces of stories. I had no idea of how to do it, so I would scribble down portions. Most of them would be incomplete. I also saw films. Cinema interested me. After Standard 10, I wanted to join the Film Institute but I was told to complete my graduation before joining.
In Vellore I saw Tamil, Telugu, Hindi and Hollywood movies. The institute exposed me to world cinema. We attended film festivals too.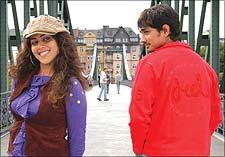 Did your family encourage you to enter films?
Yes. I couldn't think of doing a 9 to 5 job. The moment I told my father I wanted to join films, he got me the application form from the film institute and took me to Chennai. My family is happy and celebrates my success.
Has any film inspired you?
Children Of Heaven by Majid Majidi inspired me a lot. It maintained such a high standard of filmmaking over what is a small issue. I never knew such films could be made. It was so full of life; one could feel and touch the characters. I was happy to meet Majidi and interact with him at a film festival.
Any dreams?
I want to make good films and more films as more things can be told through cinema. I have some dream projects.