His new film is a unanimous rage. Critics can't stop raving about Lage Raho Munnabhai, as it seems to be a sequel that has bested the original.
In the first part of our interview, director Rajkumar Hirani talked about the pressures of making a big sequel, and how proud he is of Lage Raho. In this conclusion to his conversation, he discusses being influenced by Hrishikesh Mukherjee and cinema with heart. A couple of days before the film's release, here's what he told Raja Sen:
Does comedy come naturally to you?
Very honestly, I don't feel Munnabhai is a comedy film. I seriously feel it is a very emotional film. When I made it I never thought it'd be tagged, but now I see it in video libraries, stacked in the Comedy section. If I were to tag it myself, I'll call Munnabhai a feel-good film or a human-interest film. Similarly this film is just that. It's just that I'm trying to say things in a lighter vein. If you look at the dialogues of the film, there aren't lines in isolation that make you laugh. It's because of the situation. There's no slapstick, and the intention is not just to tickle a funny bone. Boman put it very well that day, when he said that there are some comedies described as 'leave your brains at home when you go to watch this film.' He said, 'no, for this film take your brains with you; it'll touch you.' And take your heart along too.
Agreed, but it is the comedic element which takes the message across. As you said, it is what reaches out to the people. And good comedy is very hard to do. Is this something you've always been good at?
I don't think anything comes naturally; you just have to work very hard. In advertising people always say, 'yaar, just write a line quick, it's just one line' but it can't work like that. You have to think about it. I think it's just that I have a bunch of people who are willing to work hard, and we've all spent about two and a half years on this movie. So what seems like a funny, even cheesy line and looks so simple takes its own time to evolve.
A lot of parallels are drawn between the first film and the kind of cinema Hrishikesh Mukherjee used to make -- large-hearted characters you start liking, even despite yourself. Has he been a significant influence?
Absolutely. There's a big time influence Hrishikesh Mukherjee has always had on my work. I can watch Anand, Golmaal or Chupke Chupke as many times as possible. I just really admire his kind of cinema. If I have to pick one filmmaker in India, it would have to be Hrishikesh Mukherjee.
Special Section: Farewell, Hrishida
And it comes down to that warmth, that heart. Probably because I am so deeply affected by his cinema, and so inspired by his work that I too, as a filmmaker, want to make cinema that touches you. These are the stories I like, and I would love to be able to be counted as making his kind of cinema.
Do you think that genre of cinema is dying?
Well, the sad fact is that not much of that style of cinema is being made now. They had great writers back then. Gulzar used to write for Hrishikesh Mukherjee! Anand was written by Gulzar, and I'm sure all directors today wish we had writers like him to work with. It'd be superb. But there's not much of that we see in this generation, your generation, of writers.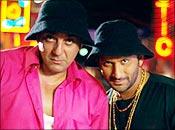 Has comedy in Bollywood today become too much of a farce? Over the last ten years, there's been hardly any memorable humour...
That's true. When I think of great comedies I remember Jaane Bhi Do Yaaron or Padosan or all the Hrishikesh Mukherjee films, which I don't classify as comedies -- as I said, they should be called feelgood films. They make you feel very good when you watch them; it's that simple. But you're right; not many great comedies have come in recent times. It's all been too slapstick.
In fact, when I was making the first Munnabhai, people told me 'comedy doesn't work.' Which is a strange Bollywood practice, they make rules for everything. Then after Munnabhai and Hera Pheri and a few more comedies, they started saying 'now only comedies work.' (Laughs) When I started a sequel, they said, 'how can you make a sequel in India, they don't work?' but now that two sequels have been successful already this year (Krrish and Phir Hera Pheri), they're all harping on an 'only sequels' mantra. It's unbelievable that they don't realise how quickly the novelty factor wears off, and they're left with just a gimmick.
Coming back to your sequel, then, just what kind of a film are we looking at? Without giving away too much of the plot, of course...
In fact, I'd really appreciate it if even the people who watch the film don't reveal too much of it. We've really tried to surprise the people with this sequel. We've hidden the plot, and feel that the exhilaration people feel when they see a film that surprises them is something else altogether. All I can say is that it's a film with a much, much larger message than the first time, but the message is again said in a very entertaining way. So it's a film that should ideally make you laugh with moist eyes throughout the film. The tone of the film is similar to the last film, but the intention is far superior this time.
So is it true that a chai-wallah wasn't aware of who Mahatma Gandhi was?
Yes, it happened on the first day of the music recording. The boy was curious, he was a big Munnabhai fan and kept asking the name of the film. The first working title was 'Munnabhai Meets Mahatma Gandhi,' and Shantanu (Moitra, the music director) told him. So he said, 'Munnabhai to theek hai, yeh Mahatma Gandhi kaun hai?' ('Munnabhai is fine, but who is this Mahatma Gandhi?')
So this is the sad state of affairs today. I was shocked. And it's not just the chai-wallah. A few days ago on TV a lot of politicians were asked India-related questions on the news channels, and I can't believe a lot of them don't know October 2 is Gandhiji's birthday! Many didn't know his first name. They kept saying, 'what's in a name, we respect his ideals,' but come on! How can you not know his name?
But this film is not trying to preach at all. It is not a boring film.
Do you see a revival then, of films with a message? Rang De Basanti really reached out to the youth some time back, and it was also a very entertaining film.
Yes, I watched that film and loved it. I'm very glad people are attempting to do something that comes from their heart. I can imagine it must have been really difficult for Rakeysh (Omprakash Mehra, director) to raise money for that kind of film, because the financers don't understand.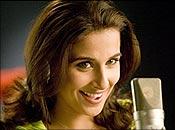 But it's happening now: luckily, it's more possible now to make just what you want to. You don't have to worry about larger than life characters coming on horses and helicopters, you can make an Iqbal or a Rang De Basanti. It's a great time to do your own thing. The good thing is also that the divide between what was once considered parallel cinema and popular cinema has blurred. And some of the parallel cinema was just bad. There were some boring films being made in the name of being arty. Now there are films coming out with a message, and they are entertaining while being socially relevant. You might agree or disagree with Rang De Basanti, but it has a point of view.
Films should entertain -- 'Thou Shalt Entertain' is definitely every director's greatest commandment -- but if you have something to say, say it. Unfortunately it is an expensive medium, and so you can't afford to be completely self-indulgent. But if you can reach out to the people with your commentary, that's the best.
While the first film was a very cleverly written film, it seemed to have its share of commercial considerations -- an 'item number,' melodrama. Is this something you considered as a necessary evil?
To start with, there's no item number in Lage Raho! (Laughs) If at all one had thought like that, then I would probably have one this time, and Vinod (Chopra, the producer) would have had one in his Eklavya and 1942, A Love Story. I don't think this production house has ever bowed down to commercial considerations at all. Vidhu Vinod Chopra is the only man I see around who makes films because he thinks 'this is a story that needs to be told, so let's tell it.' And that's the whole point: let's try and recover our investment, but if we don't make a rupee it's fine; at least we enjoy ourselves for two years.
As for the item number (set to the song Dekh le) in the first film, I don't look at it like one. It's a beautiful story, inspired by a (famed Pakistani writer Saadat Hasan) Manto tale of a man who's dying in five days, and a woman realises he's a virgin and tries to give him that satisfaction. And we've seen it in One Flew Over The Cuckoo's Nest when a guy has gone mad because he hasn't slept with a woman... I think it was a sensitive moment in a sensitive film, especially looking at the song's lyrics.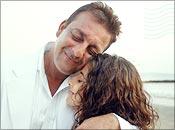 An item number would be gyrations to vulgar lyrics, and this song was about giving a dying man a last breath of life. If it was made to sell, I would have shot it differently with 20 girls in the background (laughs) and the film's promos would have been very different.
The answer to your question, though, is yes. I would like to entertain, and if what I'm using to entertain can be described as a 'commercial ingredient' I would like to incorporate that in my film. But using them should be without sacrificing your story and your value system to the demands of the distributors.
What about the star system? In the first film, Sanjay was your mainstay. Now, Sanjay's bigger, Arshad's bigger, and everyone wants to see Vidya's next film. Do you think it's important to have stars to make a big film?
To an extent, yes. I'm not saying it's essential, but it's become an unfortunate way of life in the industry. And it helps the public to get interested. Marketing is increasingly important now and when an audience sees the first promos and dialogues and songs from a film, they form their first opinion. And stars have become a way to let them care about that opinion. It begins with that. If you don't have a star, you'll have to work doubly hard to communicate the concept of the film. The amount you'll save (laughs) on an actor's fees will be spent doubly on the film's promotion. I'm not saying that a film without stars won't do, but it has to be promoted in a way that attracts the viewer to see it. And the attention span of a consumer is very little.
Talking of audiences, has your target group now become more city-centric? A lot of money is coming in from the big cities. Post-multiplexes, do you still care as much about the viewer in the rural heartlands?
See, a filmmaker who wants to tell a story will do what he needs to. A Vishal Bhardwaj will make an Omkara, which is a rural story, because he has seen that background, and he makes it from his heart. Now if he were worrying about the Mumbai multiplexes, it would have been set in Andheri (a Mumbai suburb)! (Laughs) Then there are filmmakers trying to make a story only based on markets, but different directors will do different things. But yes, big business is coming from cities today.
You keep mentioning 'your kind of cinema.' After two Munnabhais, can we assume you've found your genre?
Every day you're growing and experiencing something else. If I had made Munnabhai ten years back I would have done it very differently. In fact the first script was about three students in a medical college, which was a far different film. I wrote it immediately after I stepped out of the Institute (The Film and Television Institute of India, in Pune) and I had a totally different take on life. But things change over time, and inspirations change. So if a different kind of subject comes down the line, sure.
A massively awaited release, and your only competition is your last film. Is that a good feeling, to not be compared with anyone else?
You know, these are all things people watching the film think about. All I wanted when I made this film was that when I sit with my parents and friends I shouldn't cringe about any compromise I made, for any other reason but the film. And this time I'm looking forward to watching the film with my parents. I know they will love this film, I know my friends will love it, and I love the fact that we haven't compromised one bit. Who knows what happens on a Friday, but I think people will like it too.
Don't miss: Part I of the interview, 'Munna and Circuit are divine fools'