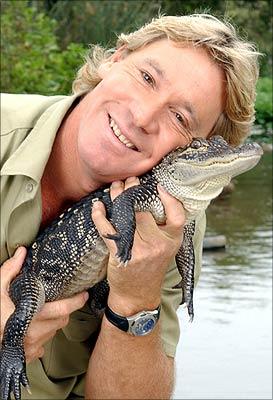 Steve Irwin, the popular television presenter better known as the 'Crocodile Hunter', has passed away following a marine accident.
The 44-year old was filming an underwater documentary on Monday morning, and police sources in Cairns, north Australia, say he was killed by a stingray barb.
Only the second known Australian fatality from a stingray attack, Irwin seemed to have been stung either through his heart or the left side of his chest, following which he immediately suffered a cardiac arrest. He is survived by wife Terri and their two children, Bindi Sue, 8, and Robert, 3.
An exuberant and fearless showman, he popularised Australian phrases around the world, and will be remembered for his use of the word 'Crikey!'
Also aiding his global following were his pro-conservation, environmentalist approach and his encyclopaedic knowledge and love of crocodiles.
Photograph: Getty Images