Talk about pressure: Rajkumar Hirani made a dream debut with Munnabhai MBBS in 2003, a film that made the nation smile. Reprising their roles as Munnabhai and Circuit, Sanjay Dutt and Arshad Warsi star alongside Boman Irani, Vidya Balan and Jimmy Shergill in the sequel opening this Friday.
Does Hirani think Lage Raho Munnabhai will live up to expectations? Raja Sen caught up with the director in a relaxed mood. Excerpts:
Your film's teaser trailer has had more of an effect on audiences than any of the blockbusters we've seen so far. Coming to the obvious questions first -- let's talk pressure.
When I was writing the script, I was under pressure. I don't deny that at all. Because last time when I was working on a script, there were no success barometers. My thrill then came from the sheer joy of making my first film. And to be honest I never expected it to be such a huge success. More than success I'd say it was a film that was genuinely loved by people. People talk to me about Munnabhai with a lot of affection in their faces. So if something of that sort happens then it makes you doubly responsible and it also makes you scared that now how do we match that, or better that? So in that process you do become a little scared.
Last time, when I was writing the film, jaadu ki jhappi was a small part of the script for me, maamu was a small part. They were just some aspects of the film. But then the film releases and people pick up things and they become larger than life. So when writing this film obvious pressures come in, the 'do I have something to match that' kind of thing. But you have to tell your mind not to worry about all that and just write from the heart, like last time. In fact, even last time I was striving to write scenes that I haven't seen before in any film. This time I've tried that even harder.
While shooting, actors were under pressure, but now it's over and done and when we finished and saw it, then confidence came back. A couple of months back when I got into the editing I could feel that this is a film I could be proud of, and now that the print is out and a few people have seen it, I am all more relieved.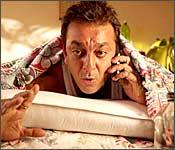 You said that you were trying to match the jaadu ki jhappi or the maamu; while writing the script did you try to incorporate parallels to these bits?
See, it's a trap. The moment you start to do that, then you're not being fair to your scenes, to whatever you're writing. Then you're digging for bits that you think will be successful, things that you think people will like. That is a big trap. Initially, I must admit I was trying to do that. I had a big problem trying to find something to parallel Boman's laugh in that (first) film. I think it's a great trait, and I should find something. But then I realised that if I do that, people will say 'usme bhi kiya tha, isme bhi kar raha hai' ('he did it there so he's doing it here too').
So you write your own thing, and leave it all to the people. Now that it's done I can see people maybe picking up on certain things, but I'm not worried too much about it.
Munnabhai has become a really iconic film. It's regarded as Sanjay's best film, after such a long career. Doesn't it just seem an impossible act to follow?
We're not trying to follow it. I wouldn't have made a sequel if I thought it was going to be inferior to the first one. And we've strived ten times harder than the first film to make this not only an equal, but a better film than that. Now, whether we succeed or fail, nobody can really say, but our intentions have been very honest. I've worked with a great team, from the scriptwriter to the cameraman to the actors, and their dedication has been far more immense than the last film. The intention is not to cash in on a hit film, otherwise we'd have made the sequel in six months. We've spent two and a half years doing it, and after seeing the film I think we've succeeded, but as I always feel no one can predict box office success. Within our minds, we're all at peace seeing the film.
Does the box office really matter to you as a filmmaker?
Um, I think it does. Unfortunately, we happen to be in a business where anybody involved with the film -- an actor, a technician, a director -- does it for a certain amount of appreciation. Either that or money, or both. In this case, all the people I know would definitely not do it for money, but creativity thrives on how other people respond to it. I might create a great painting, but if 10,000 people tell me it's bad, I might start thinking it's bad. So you want that appreciation, you want that success. And the box office, in a way it says, 'okay, so many people like it.'
But it's another thing to bow down to that pressure and say, 'okay, I'm going to make something in a way that people in Bihar will like it, somebody in UP will like this, so I should now attempt to make a successful film keeping all these factors in mind.' I think that is a dangerous thing to do. If you make something from your heart, of course you want it to connect with the people.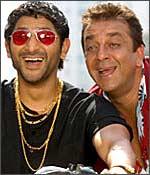 Is this a much larger film, in terms of scale?
Yeah, it's a much bigger film. But it's not that the last film succeeded so we upped the budget. Last time, we were working on a tight budget, and we didn't have a lot of resources. This time we have the resources so whatever the script required, we had that. If we wanted a Jimmy Jib (a specific kind of camera crane) to be used in one shot, we could get that Jimmy Jib just for that one shot.
But it's not because we have the money that we'll suddenly cut and go to Switzerland. It's a very real set-up, still in Dhobi Ghat (in the Mahalaxmi area of Mumbai)f. The only place we go to is Goa, and that's because the characters go there. It's not flaunting its scale.
You've repeatedly said that this is a series, not a sequel. Lets clarify that concept, because it's new to Indian audiences.
It's been happening for a hundred years. I don't think it's alien to our people at all. I've seen their reactions two days ago. It doesn't bother them for a minute. Two minutes into the film, you're sucked into it. Charlie Chaplin did it all his life, Laurel & Hardy did it, James Bond is still doing it… The Tramp stays the same and the world around him changes.
And have your characters changed at all? Are Munna and Circuit more fleshed out this time?
I call those two divine fools. They're goons, they're supposed to be killing people but in these films they're helping people constantly. So no, their characters don't change at all. Circuit probably gets a little more gold around his neck; he's a little more prosperous. Munna gets to wear a few more colourful shirts. So they might be doing a bit better, but as human beings they haven't changed at all.
At a point when a lot of our cinema is turning darker, and everyone is making more shadowy cinema, your first film is the kind that wins over the cynics. On paper, the jaadu ki jhappi dialogue seems impossible to pull off, but it just clicks because it touches you. Are your films now a conscious effort to earnestly make people smile?
A filmmaker will make what he wants to make, tell the story he wants to tell. The other kind of filmmaker is making a film to make some money, or make a film to make a success. And since I'm making what I like to make, I think this is what I enjoy doing. I am trying to make the kind of film that I would be happy to see.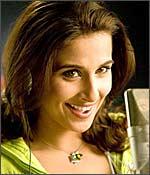 If the last film had a message this one has a far bigger message. If I stop you and say something about Mahatma Gandhi, you'll brush me off saying 'boring.' To preach is very boring, and nobody wants free advice. But if it's entertainment, then this changes. If you explain something to a kid through an interesting story, he'll be hooked.  So I'm just trying to give people a message which they'll enjoy.
In terms of films, I don't like to show pain. I'd like to show hope. If you show a handicapped person unable to cross the street, that's pain, but the moment you show that handicapped guy making a brave effort to cross the road, that's hope. Seeing a sad guy will make you cry, but seeing a sad guy fighting for himself will still make you cry, but with a smile on your face.
There's hope. I have hope in the world. I know times are changing and things look bleak but you have to have hope, yaar. I seriously feel that things are never hopeless.
Don't miss Part II of the interview, where Rajkumar Hirani talks about Hrishikesh Mukherjee and comedies with heart.