It seems the time has come for the Chief Election Commissioner to expand his ambit of activities to reality shows on television as well! After all, the number of complaints regarding the voting mechanism only appears to be increasing. The stakes are pretty high too, with prizes for winners hovering around the Rs 1 crore (Rs 10 million) mark, in cash and kind.
Earlier this year came the controversy over Debojit (Sa Re Ga Ma winner) getting most votes from his home state and a regional bias leading to his victory. Now, it is the turn of Jhalak Dikhlaaja and Nach Baliye -- the two immensely popular celebrity dance shows.
In the last few days, there have been media reports of celebrities buying hundreds of cell phone connections and giving it to fans specifically for voting purposes! Not to mention other methods like going on campaign tours asking for votes, distributing T-shirts and even sending messages requesting votes.
While there is nothing wrong with campaigning and asking for votes, there definitely is a violation of ethics if you buy phone connections and distribute it specifically for voting. Come to think of it, this has been the case with the Filmfare Awards as well. Even in the 60s, celebrities were accused of using their money to buy almost the entire print run of Filmfare, hire people to tear coupons from the magazines, and vote so they could win the awards. All that has changed is the mode -- from hardcopy magazines to short messaging services.
Sameer Nair, Chief Operating Officer, Star TV, feels there is no violation in canvassing for votes. "We have definitely encouraged all Nach Baliye participants to canvas for votes," he says, "and many have gone the extra mile to do so -- from printing and distributing posters to travelling to different parts of the country, to urging family and friends to vote in large numbers."
However, using the same phone to send innumerable votes is something Star does not allow. Nair clarifies, "The rules of Nach Baliye 2 clearly state that no more than 20 votes will be accepted from any one landline, cell number or email ID per episode. The participants are committed to abiding by all rules of the show, and our systems are robust enough to ensure that all set rules and regulations are followed."
If one were to interpret Nair's statement, then, it means the software systems used to accept and count votes will not accept more than 20 votes from the same phone or email. But again, that doesn't stop celebrities from buying a few hundred connections and asking fans to vote from different connections. Or, to open multiple email accounts and send in votes. As they say, every time you discover a good lock, the thief finds a key!
While Manav Gohil and Shweta Kwatra (above, the main 'accused' in the cell phone buying scandal) were not reachable, rediff.com did manage to talk to a few participants of Nach Baliye.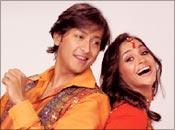 Says Arjun Punj who, along with beau Gurdeep Kohli, (left) has been in the danger zone for the last two episodes, "There is no harm if you ask family and friends to vote for you and buy SIM cards for that purpose. But no one should misuse that."
What is the difference between using SIM cards legitimately and misusing them? That is the topic no one wants to touch with a bargepole.
"I don't think we will buy cell phone connections for voting simply because Nach Baliye is not the end of my life. We are here to enjoy the contest and entertain people," says Punj.
Adds Hiten Tejwani who, along with wife Gauri, has been sailing through largely because of their popularity as a couple, "Whether buying connections specifically for voting is right or wrong is something channel authorities should answer. Gauri and I have no plans for campaigning now or in the future. To be honest, none of us have the time for these things."