I'm here to investigate actor Boman Irani's latest role -- as supercop and Deputy Commissioner of Police -- in director Farhan Akhtar's remake of the 1978 Bollywood thriller and superhit, Don.
DCP D'Silva is no ordinary cop. He's got a tough mission ahead of him --  to capture Don -- a ruthless criminal and gangster (played by Shah Rukh Khan in the remake, Amitabh Bachchan in the original). The nifty Don, escapes the clutches of the DCP time and again. But the determined cop patiently plots and plans to how to ensnare his prey.
Boman, like the rest of the Don cast, has a tough mission head of him -- to give a new spin to a character, originally played by Ifthkar Khan. Will he ape the original DCP's mannerisms? Will the new DCP also have a funny bone like many of Boman's other characters?
Lucky Singh alias Dr JC Asthana alias Khurana alias Inspector Tejpal alias Boman Irani talks to Merril Diniz about his take on the supercop, his off-screen clashes with the Don himself aka Shah Rukh Khan and some spicy snippets about his upcoming roles in Eklavya and Honeymoon Travels Pvt Ltd.
You like to delve deep into the characters you play. How would you describe DCP D'Silva?
It's a straight role. He's got a single-minded approach -- to track down Don.
Whether he gets Vijay, a country bumpkin who resembles the Don (Shah Rukh in a double role) to the job or pose as Don, the DCP has to do it in a clever, cunning, but humane way. And he gets more and more desperate, because he is chasing him, breathing down his neck all the time, and yet, the guy escapes. The DCP is really desperate to crack the gang.
I think D'Silva is an interesting character; he has lots to think about because he is playing a game with the underworld. He needs to outsmart one of the smartest guys that he has ever encountered. There's nothing comical about it. The moment you bring in humour to a situation like that, D'Silva is the wrong guy for it because Don is a breakneck thriller. I don't think the character's motivations allow him to be funny at all. At the same time, he's interesting because D'Silva is thinking all the time. Every minute.
Also, the DCP at home is different from the guy at work.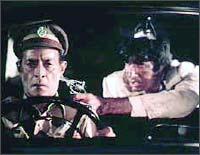 Is it tough to put a new spin on an iconic character?
There is a body that you own and there is only so much you can do with it. I do take pride in the fact that the body language in Being Cyrus is very different from that of Lucky Singh in Lage Rago Munnabhai and the nervous Darna Mana Hai character.
I do whatever I have to do from the preparation that goes into my head. And by preparation, I don't mean that I have to say my lines 500 times. Preparation is only reflection. So, to me doing a cop is doing the cop the best way I could. I never think about Iftekar having played it in a particular way. And the moment I say he's played it like this, and this is the way I will play it, then you've already gone and put your foot in your mouth. You've got to do it how you think is best for the role and not how someone else as played it.
You've already played a cop in My Wife's Murder. Is the DCP very different from Inspector Tejpal?
The stakes are higher for DCP Silva because he is planting a country bumpkin into a Don's suit. So his worry quotient is more. Whereas the guy in My Wife's Murder is sailing through and getting pleasure in seeing the other guy squirm because he is the master at his game. D'Silva is not at the top of his game because he is getting ruined every time Don eludes him.
In a way, Don and D'Silva are similar because they are both playing a game and pulling tricks on each other. But one is on the right side of the law, the other is on the wrong side of the law.
Tell us about your real life clashes with the Don aka Shah Rukh?
Unbelievable! It takes a lot for a guy to charm me (laughs). But he is one of the most charming people I have ever met and at the same time, it's not an act.
He's also terrific fun. In fact, he thinks like D'Silva. His mind works overtime. He does not stop thinking. I've never seen his mind not going 10 steps ahead whether it's the scene or whether it is planning what we are going to do after the shoot. He's a thinking actor. He's interested in all the roles in the film, and he's interested in the people in the film. He's interested in their comfort levels. He interested what we are doing tonight and tomorrow. There's never a dull moment with him around. He actually arranged for trophies and placed them in his room where we used to play playstation. And we would play till the wee hours of the morning. I won't tell you who won.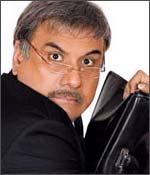 Er... who won?
If I tell you, I might lose a good friend because I don't know how sore a loser he is (laughs).
You've worked with Farhan Akhtar in Lakshya where you played Hrithik Roshan's father. What was it like second time round?
Farhan and I have gotten very fond of each other. It takes time sometimes especially in this day and age, where most friends you make are in school and college.
Also, I think Farhan sees the serious side in me. I'm proud of the way he thinks and casts.
Being perceived as a guy who does comedy, I am lucky that people like Vidhu Vinod Chopra, Farhan Akhtar, Ram Gopal Varma, Yash Chopra have all cast me in very, very serious roles. I have a very dark role in Eklavya (by Vidhu Vinod Chopra). It's one of the darkest characters I have ever encountered. When the comedy is selling, it's fine. But why would they risk making me play a dark, grim character? Because they believe in me.
Is it a cliche that comedy is the most difficult to create?
Yes. Nothing is easy. Not even slapstick comedy. Try pretending to slip on a banana skin. You can't do it! Even in Khosla Ka Ghosla, though it's a comedy, Khurana's character is not a comedian. Even Lucky Singh is a tough nut to crack. He may laugh, he may joke but he's also hard. The moment you say, "Lucky why don't you give them the plot of land to the old people?", he'll say "Get out!"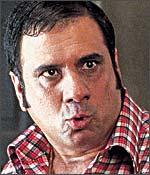 Which role has challenged you the most so far?
Eklavya. It's a complex role. The film can be set in any time. It could be a medieval drama even though it is contemporary. It's about loyalty and deceit within the walls of a palace. It's got Amitabh Bachchan, Saif Ali Khan, Sanjay Dutt, Sharmila Tagore, Jackie Shroff, Vidya Balan and Jimmy Shergill. Everything seems very straightforward on the surface but there are some secrets in the palace.
Lucky Singh was also difficult to play. If I was a Sardar and did it stereotypically, I would have been forgiven. But I'm a Parsi. Someone told director Rajkumar Hirani, "Parsi hi mila kya? Koi doosra nahi mila kya?" It was a joke, but it gave me a reason to go for it. And I went for it. There was not even an iota of a Parsi in that role.
Will we ever see you in a romantic role?
My character in Honeymoon Travels Pvt Ltd is a romantic role. I'm married to Shabana Azmi. I play Oscar Fernandes, a 50-year old middle-class Catholic guy, and Shabana plays a Muslim schoolteacher. It's a second marriage for both of us and we go our honeymoon in Goa. I don't know many people in their 50s who hold hands and whisper sweet nothings. How is he (Oscar) going to hold hands? The older you are, the more awkwardness there is to kiss and hold hands. There's a lot of innocence in the romance because they are not expected to hold hands.
Did you have interesting conversations with Shabana?
She's like one of the guys! I had one of the most satisfying acting experiences with Shabana because on location, we would drive to work together. We spoke so much about life that the acting just fell into place.
If by Rudyyard Kipling is my favourite poem. And Shabana and only Shabana Azmi could get me a perfume called If packaged in a box, which was in the shape of a book. On the inside, was printed the entire poem! She's been around so long and I consider her to be one of the finest actresses this country has produced. And here I am, a Johnny-come-lately discussing life and movies with this wonderful performer and person. And let's not get confused and think that Shabana Azmi has to make sense all the time. She's great fun too. I was just telling someone the other day, you don't have to make sense every minute of the day. Why can't we just talk nonsense sometimes?