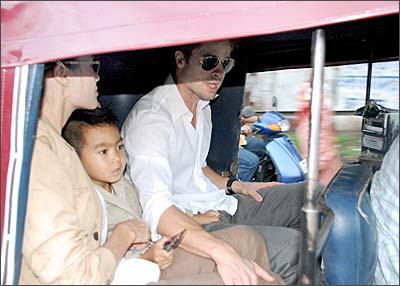 Brad Pitt and Angelina Jolie were finally spotted taking in a bit of Pune October 8, when they sampled an autorickshaw ride!
For four days -- courtesy Indian and international photographers, who have done a 24/7 stake-out of the couple's hotel, Le Meridien, Pune --  we have had to suffer a series of hazy pics of Angelina seen through hotel screens, photographs of their Mercedes van and of their scuffling bodyguards.
Finally, here's a peek at Brangelina in India!
The couple, along with their three children Zahara, Maddox and Shiloh, are in Pune to shoot for A Mighty Heart, a film based on a book of the same name by Marianne Pearl. A Mighty Heart is the story of American journalist Daniel Pearl, who was abducted and killed by Islamic extremists in Karachi, Pakistan, in 2002.

Jolie will play Pearl's wife Marianne, and Dan Futterman plays Daniel. Pitt will produce the film.
In this pic, Pitt holds on to Jolie protectively as she cradles five-year-old Maddox, her adopted son from Cambodia, another land of autorickshaws. Makes us wonder: Is the auto ride in preparation for the role? Or is it just to get a taste of the real India?
Photographs: Getty Images
Seen Brad Pitt & Angelina Jolie in Pune?