He came into the industry with a tag. Ever since his debut in 2003 with Tujhe Meri Kasam, people prefixed Ritesh Deshmukh's name with that of his father's, Maharashtra Chief Minister Vilasrao Deshmukh.
But now, after he's had big hits like Masti and Kya Kool Hai Hum, and won critical acclaim for his work in Bluffmaster and Naach, the actor has come into his own. And his career is rocking.
"I am happy I am employed all the time," the actor laughs it off. "I'm enjoying my job and have no dates till 2007, because I have half a dozen films in hand."
Watching him shoot in Mumbai for Sajid Khan's directorial debut, Hey Baby with Akshay Kumar and Fardeen Khan, it's easy to believe he has no time. He jumps onto the set for a quick take, and rushes back to resume the conversation.
"I am seeing good times in my career at the moment, and I don't think of the future," Ritesh explains. "I take life as it comes."
His latest film Apna Sapna Money Money releases on Friday but Ritesh isn't too nervous. "The anxiety is always there for me when my film releases, but I no longer get nervous. Earlier, I used to get a bit nervous and especially during my first film Tujhe Meri Kasam there was too much anxiety from my side."
Apna Sapna Money Money reunites Ritesh with Kya Kool... director Sangeeth Sivan. "Every film has it's own merit. We have worked hard on it. We don't know how audience will take it," Ritesh shrugs. "They may like it or they may not. I can only hope for the best."
In this film, he plays a conman and a master-of-disguise. So just how important is money to the young star? "It is a very important means to buy goods in life, but I think money can never buy love," Ritesh rattles off without a pause. "I must add that every person has a different take on money and I am sure you must be having your own take too."
And what about the theory that money is the root cause of all problems? "Again, this depends from person to person. How do they take it? How do they react when they get too much money in their pockets? This all depends on individuals."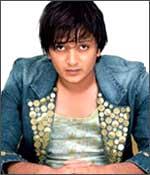 Has the Malamaal Weekly actor ever fallen short of money? "Yes," Ritesh reveals. "I always knew the depth of my pocket. If I had Rs 10 in my pocket, I always knew I had to buy a Vada Pav, and I couldn't go and spend in excess in some expensive hotel."
Ritesh calls Priyadarshan's film his biggest challenge, since he had to be comic in front of great actors like Paresh Rawal and Om Puri. "Malaamal was an experimental film. It became a big hit and we all felt very happy about our work. It was a great learning experience and I was more than happy when the film clicked at the box office," says Ritiesh.
Ritesh might have tried serious roles in films like Naach, but his box office success is largely due to comedies. Is he the next Govinda? "I think it is a huge compliment if you compare me with Govinda, but I can never be compared to Govinda," Ritesh gushes, in awe of the actor. "There will always be only one Govinda and that is Govinda, the Hero No 1. He is far too talented and no one can be compared to him."
Is Ritesh as funny in real life as he is on screen? "It depends on my company. If I have serious company, I am serious. I react according to situations in real life."
"But then if someone is talking philosophy, then I shut up" he grins. "It isn't my cup of tea, so I better be quiet."