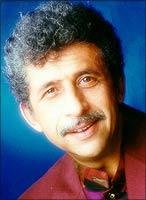 As an actor, no one ever doubted his talent.
Yet, that talent was never truly exploited by Bollywood.
Now, Naseeruddin Shah is taking matters into his own hands. Butressed by his immense experience in theatre, Naseer is now making his first film as a director.
His Yun Hota Toh Kya Hota, stars an ensemble cast (Konkona Sen-Sharma, Irfan Khan, Ayesha Takia, Jimmy Shergill, Paresh Rawal, Boman Irani, Ratna Pathak), features 9/11 and has been partially shot in the US.
In a two-part interview, Naseer spoke to Raja Sen, about his new film, scheduled to release in July:
Now that you are making your own film, are you dealing with actors differently? Is it showing you a different dynamic to the actor-director relationship?
No, no. There have been no revelations. It has confirmed a lot of things I have always believed and was never able to try out. About how actors should be handled, how scenes should be staged. It confirmed a lot of doubts that I had. So it was a further step in my learning. I'm not new to handling actors because I've taught, and I've directed plays. And I love handling actors. They are the funniest people on earth. Particularly those who take themselves seriously. And they're also the laziest people on earth' I also know that. (Laughs)
| | |
| --- | --- |
| | More on rediff.com! |
| | |
Is that frustrating as a director?
Yeah, it is, it is. But then, well, they're the blessed ones. (Laughs) They're the chosen ones. It's a blessing to stay a child all your life -- pretend to be this and that. And get paid for it. So we're going to teach them to (laughs) pretend well.
Was directing an easy transition because you've been around so long?
Yeah. It wasn't an easy job to do, but the transition wasn't difficult. There were no labour pains or birth pangs.
I was on the sets once, when you were shooting with Ayesha (Takia), and I noticed particularly the way you had your eye on the continuity. It was definitely not like a first-time director.
That's just experience. Especially when you're dealing with people.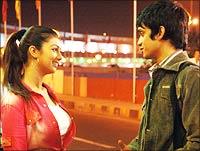 The story is by you?
No, the story is by Uttam Gada, a Gujarati playwright and short story writer. The story is his and I wrote the screenplay and developed the script.
Was it a tough film to cast, especially considering you've got lots of new faces in it?
No, it wasn't tough because most of the actors I wanted agreed instantly, and I felt very good about that. A couple of roles were tricky, a couple of actors let us down at the last second after having promised, but it was great.
The way (snaps fingers) others rallied around, I felt very gratified. It all seemed worth it.
'I don't look at my work as an avenue for generating more work'


All my frustrations, all my bitterness about certain filmmakers and disgust with the film industry, everything notwithstanding, it was a very gratifying thing. And I felt that the 30 years I have spent here have been worth it. Because if I can get guys who can do this for me, without thinking about the money -- they're doing it only because I'm asking them to, without thinking of any fall out for them -- it's just wonderful. Everyone took a pay cut for this, everyone did it for practically nothing. They cut into their other schedules to accommodate me, which felt great.
The film is about four parallel stories?
Four parallel stories, all of which involve people who want to migrate to the land of opportunity and they have their various kinds of difficulties in getting there, and they get there, and the four stories then converge. It's about people from different strata of society -- there's a jhuggi dweller, there's a lower middle-class and an upper middle-class person, there's a very wealthy person -- for all of whom America's streets are paved with gold. They believe that if they go to America, all their problems will be solved. So that's the comment that the film is making. That this American Dream it's a bit of a mirage.
Would you call it a drama?
All four stories are dramatic. They're also all love stories in a way. They're dramatic love stories. I'm not much for lovers walking hand-in-hand in leafy meadows kind of stuff. I believe in hands-on romance. (Laughs) So there is a lot of romance in the movie. All four are love stories, as well as stories of separation.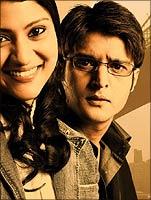 Are you concerned about the reaction? As a first-time filmmaker, do reviews matter?
Reviews I don't give a sh-- for. I never have. 
The producer is concerned because his money is invested.
And I'm concerned that I shouldn't be a complete failure. My own assessment of my work begins and ends with 'have I managed to tell this story well, through pictures?' That's what I'm striving for. I'm not trying to prove myself a great filmmaker. I don't know much about filmmaking anyway, I'm trying my hand at it to see if I'm any good. And frankly, I can't pass a judgement. I'll only be able to do that a year after the film is complete. (Smiles).
As an actor-director, did you encourage lots of improvisation on the sets?
Lots. I didn't storyboard the film. I didn't feel the need to storyboard and plan it all out. I planned out a rough sequence of shots, not every single shot. I should have perhaps prepared my shot division a little better, because you can only improvise on an existing note. So one should be, even if one is depending on last-minute inspiration, well-prepared. I guess there were occasions when I wasn't.
Don't miss the second part of the interview tomorrow!
'Acting institutes are all con games run by failed actors'