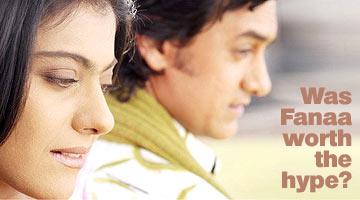 Yash Chopra's Fanaa remained in the eye of a storm last week, thanks to lead actor Aamir Khan's statements on the Narmada issue. The film was unofficially banned in Gujarat with the ruling Bharatiya Janata Party demanding an Aamir apology. He refused.
Meanwhile, the Chopras demanded a higher percentage of profits from multiplex owners, leading to protests from the latter.
The film released to mixed reviews and packed theatres.
Though Fanaa notched brownie points for a gorgeous Kajol and an excellent Aamir, some felt it was far too long, and told a simplistic story.
Do you think Fanaa was worth all the hype? Tell us!