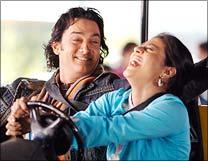 The Narmada Bachao Andolan has condemned the 'unofficial ban' on Aamir Khan's movie Fanaa in Gujarat, saying that such 'fanaticism and intolerance' in the name of development is unacceptable.
The actor had spoken out in favour of the NBA, which is fighting for the rights of people displaced by the Sardar Sarovar Dam project. Gujarat's ruling Bharatiya Janata Party had demanded an apology, but the actor refused. 
Modi assured Yash Chopra of protection
Fanaa, which was released nationwide on Friday, remained off theatres in Gujarat after hall owners declined to screen it fearing violence and protests by the BJP's youth wing. 'These kinds of intimidatory tactics are used by Gujarat's politicians out of timidity and intolerance because they realise civil society's strength and support to the NBA, especially that of eminent persons joining us,' an NBA statement said on Monday.  
Aamir's religion targeted: Congress

Describing the unofficial boycott as 'fanaticism', it continued: 'This ban is unlawful. As the Censor Board has cleared the film, no political forum can go against it. If it does, legal action may also be initiated.'  
The Congress party in Gujarat is also up in arms against Khan after he supported the NBA's demand for a halt in raising the height of the dam until rehabilitation of the displaced people was completed. Supporting the actor, the NBA said, 'We appreciate Aamir Khan's committed position on 'no displacement without rehabilitation' as non-negotiable and his readiness to bear the brunt.'
Incidentally, Amit Thaker, the BJP leader in Ahmedabad leading the movement against Aamir, is facing criminal charges under section 307 of the Criminal Procedure code for attacking NBA activists inside the Gandhi Ashram. The Justice Dave Commission that investigated the violent attacks had also indicted him. Interestingly, it is alleged that the 'anti-Modi' lobby within the BJP in Gujarat is supporting Thaker to "embarrass" Modi who, in a "close-door settlement" had promised Yash Chopra, producer of Fanaa, that his party wouldn't oppose Khan's film. Many observers in Gandhinagar claim that Fanaa has been trapped in the clumsy internal struggle of the state BJP.
The NBA claims it has experienced, 'similar violent outbreaks, mostly instigated by vulgar politics' throughout its 20-year long struggle. 'The attack on the conference on water in Ahmedabad, the harassment and compelled withdrawal of signatures on the memorandum favouring a review of the project, the commission for SCs/STs, the attack during a post-riot peace meeting in Sabharmati Ashram on Medha Patkar and media persons are some of the examples," the statement read.
The NBA also pointed out that, "What Aamir Khan has said is the basic minimum as endorsed by the law and judgments related to Sardar Sarovar for years. Construction of the dam up to 122 metres is indeed illegal, unconstitutional and inhuman, and hence must stopped and questioned."
With inputs from PTI