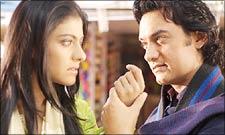 When the choice of notes falls just right, neither an octave higher nor a rung lower is what we call a perfect composition. The slightest bungling in these notes could have a discordant impact on the creation.

Fanaa works largely because it gets its notes correct on celluloid.
Combination of gifted but diverse actors; right from the lead to the supporting roles is impeccable. If it weren't for the casting, the story would, in all likelihood, go haywire.
| | |
| --- | --- |
| | More on rediff.com! |
| | |
Considering it spans almost a decade and gets predictable with its melodramatic content that runs a lengthy 18 reels,
Fanaa
, despite its palpable flaws, is engaging and entertaining.
Director Kunal Kohli has so far dealt only with romance. Be it the mushy triangle,
Mujhse Dosti Karoge
or the Mars vs Venus tiff,
Hum Tum
.
Fanaa
, too, explores another facet of love; only it is more serious and dramatic in nature.
Though all his films, under the Yashraj Films banner, have been a star spangled affair,
Fanaa
featuring Aamir Khan and Kajol is inarguably colossal. The pressure of these expectations shows in the beginning as Kohli labours to establish passionate sparks between his hero and heroine. But as the story advances and his characters find their own bearings, Kohli's confidence settles in its skin.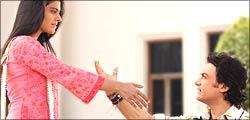 The underlining patriotism reveals itself right at the onset as Zooni Ali Beg (Kajol) in her dewy-eyed enthusiasm salutes the Indian flag albeit facing the opposite direction. Her mother (Kirron Kher) nudges her to veer slightly and it is delicately suggested that Zooni is blind. The Kashmiri mother-daughter duo shares a demonstrative relationship and a common love for poetry, including
Kabhi Kabhi Mere Dil Mein
. Zooni's father Zulfikar (Rishi Kapoor) is the protective daddy on surface but a softie at heart.
After seeking her doting parents permission, Zooni sets out of the sheltered confines of her home to discover the real world as a part of her college dance troupe. The troupe includes a fussy head (Lilette Dubey) and her shielding buddies Fatty (a vivacity personified Shruti Seth) and Bobo (an endearing Sanaya Irani), is putting up a Republic-Day concert in Delhi. There they meet tour guide Rehaan (Aamir Khan) who volunteers to show them around. Brash and flirtatious, Rehaan comes on strongly to Zooni, who responds with equal fervour.
Both Rehaan and Zooni have a stereotypically, jazzed up introductory scene in the film. And their first encounter together, too, is picturised in a glitzy manner with heavyweight poetry flowing as repartees and quips. He brazenly makes digs about her handicap, she gleefully ignores it. He makes passes on her gal pals, she indulgently chuckles.
A wooing session, that gives you a complete Old Delhi
darshan
, wraps up with Zooni head over heels in love with Rehaan. A little resistance and rain song later, Rehaan also gives in. Though by now, it is suggested that some stinky skeleton lurks in Rehaan's past.
The lovebirds inform Zooni's folks and gear up for a wedding. Though not before Zooni gets a quick retinal transplant and Rehaan's true identity is loosely revealed. What happens next? I suggest you watch
Fanaa
to find out.
With its innumerable twists and unfolding drama, even if foreseeable,
Fanaa
keeps you hooked on the sheer conviction and chemistry of its actors. Without overplaying the implausibility of their circumstances, Aamir Khan and Kajol play it real, lending credibility to the going-on. They share a dynamic equation, which makes their inability to let go of each other, believable and heart-felt.
Fanaa
would be empty without Aamir and Kajol's joint passion.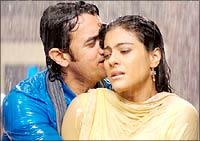 Kajol looks ethereal. The actress who is seen after a five-year break swaps her bouncy vivacity for sensual grace and assertive intensity. In her earlier films, Kajol's body language has always appeared impatient. As Zooni she maybe subdued but applies the ardent nature of her emotions effectively. There are times when she lifts an entire scene to new levels, single-handedly and you cannot help but sit in awe. But then Aamir Khan is not an easy actor to overshadow. Not to be relegated to the background, he bounces with meticulous restrain and touching emotionality.
Rehaan is not a character as well written as Zooni. The difficulty of his choices and the mystery of his conditioning are never broached on. Therefore the viewer thinks him confused, never really getting the subtext. The third star of this enterprise Tabu plays a no-nonsense anti-terrorist bureau agent with élan. It is a brief role but she is compelling.
One cannot help but fault
Fanaa
's ill-defined patriotism. Take the case of a few other films of this genre. While
Roja
succeeds in representing the Kashmir crisis and
Dil Se
's projection of terrorism is more detailed,
Fanaa
uses it as ploy but never articulates its impact or urgency. Another con is: when Lara Dutta and Shiney Ahuja's name is mentioned in the opening credits you accept an interesting cameo. The actors, however, are simply wasted in blink-and-you'll-miss cameos to utter meaningless lines.
In contrast, Rishi Kapoor gets to play a role that suits him to the T. A romantic who enjoys his occasional drinks, Kapoor spews philosophy with his classic candour. And whilst he does that, you can't help but smile at a photoshoped picture of a young RK and dainty Kirron Kher (animated but not boisterous), sitting pretty on the bureau.
Cinematographer Ravi K Chandran's gives Delhi and Poland (passed off as Kashmir) a magnificent aura. The approach he takes to shoot a particularly thrilling chase sequence involving parasailing and skiing is terrific. The grand finale concerning a face off at gunpoint reels a cinematic high. And is somewhat reminiscent of the memorable climax in Ramesh Sippy's
Shakti
.
Go see it for yourself!
Rediff Rating: