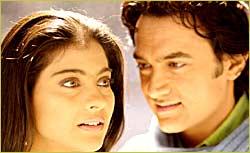 Yash Raj films has finally signed up with Adlabs to screen 
Fanaa
in the Adlabs multiplexes.
Speaking to rediff.com, Tushar Dhingra, chief operating officer, Adlabs Films, said, "We have agreed to mutual business terms to end the deadlock. Fanaa will be now screened across all the Adlabs multiplex cinemas in the country."
Dhingra refused to reveal details on what the percentage sharing of ticket revenues between Yash Raj and Adlabs -- which was the bone of contention -- would be.
Yash Raj was asking for a higher percentage of profits from multiplex theatres for Fanaa, which the theatre owners rejected.
The producers told multiplex owners they would not demand for more money if Fanaa did badly at the box office. Multiplex owners refused to play ball.  
Asked what the ticket price for Fanaa will be, Dhingra said, "It will be the same as for any regular film -- between Rs 150 and 175."
Insiders feel with Adlabs signing up, other multiplex owners would also come to some kind of agreement with Yash Raj.