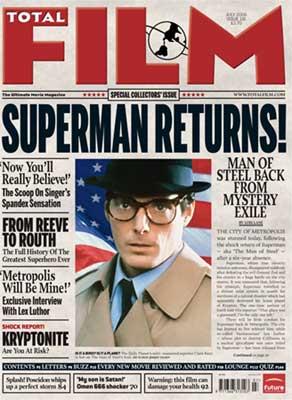 The summer blockbusters are here.
While Hollywood's kicked things off with its May lineup, and The Da Vinci Code is kicking up controversy and unfavourable reviews around the world, another mammoth release is waiting in the wings.
Bryan Singer's Superman Returns has the box office steam to be the year's biggest film, and as the world waits eagerly, UK-based film magazine Total Film has put together a special collectors' issue.
Made to resemble the front page of Clark Kent's fictional newspaper The Daily Planet, the magazine is available with two covers -- one featuring the 'original' Superman Christopher Reeve (pictured) and the other with new kid Brandon Routh.
Don't miss: Pix from the new Superman
This is obviously just the start, as DC Comics' greatest asset prepares to overpower the media over the next month. Expect the famous 'S' logo stamped everywhere in sight.
Superman Returns to theatres June 30.