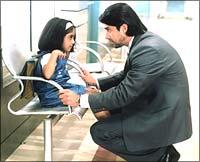 It is. It is not.

No, I am not pulling out petals. And this is not a game of He loves me, He loves me not. This is what the following prompts you to speculate.

Ankahee is promoted, marketed, projected, blah blah whatever as a "film close to Vikram Bhatt's heart". At the same time, he emphasises in an interview to rediff.com that it is "marketable to say that the film is based on Sushmita Sen," whom he was seeing at some point during his marital life. At the same time, he doesn't mince the fact that it is, indeed, based on the "emotions" he felt when he was "in a relationship" while "married".

Touching honesty, eh?
Amisha: Men are emotionally weaker
Though really, Ankahee is nothing but a distorted mix of Mahesh Bhatt's critically acclaimed Arth and made-for-television Phir Teri Kahani Yaad Aayee.

Sure, it deals with infidelity, obsessive behaviour and the complex nature of relationships. The problem is how it deals with it. A dramatic subject of this nature asks for passion, dignity and honesty. Instead, it is treated with hollow superficiality and a constant supply of glycerine.

Clad in a white cotton sari with visible greys and wrinkles in place, the film begins with Nandita (Amisha Patel) informing her 21-year old daughter Sheena (Hrishitaa Bhat) that her father is lying on his deathbed and aching to see her. Sheena immediately takes out her pent-up fury on an old, dusty piano. In an expression as crisp as her sari, Patel urges her screen daughter to give the dying papa a last chance.
Esha Deol goes glam in Ankahee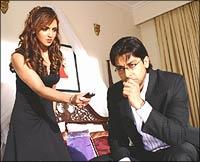 Her dying old man a.k.a. Dr Shekhar (Aftab Shivdasani) tries to divert our attention from an evidently bad make-up job by uttering his first lines: 'I almost thought you wouldn't come.' Hey, that's not Aftab, you squeal. Vikram Bhatt tells his own tale/emotions in his own words. The director's well-known fascination with dubbing his male actors persists.

Dehydrated and dying, Shekhar, apparently, has no strength left to speak. He smartly hands over his personal diary to Sheena, which is to say how 'Once upon a time, daddy left mommy for a manically depressed actress'. Interestingly, Shekhar's character is never shown writing a journal. He doesn't even put away his dinner plate or untie the knots of his shoelace. His only job is to go to a hospital dressed in stuffy suits and attend medical conferences in Goa.

The eight-year itch begins to creep into his blissful life with wife Nandita and daughter Sheena after an intense encounter with Kavya, an actress and ex-Miss World. Lonely, depressed and suicidal, Kavya slices her wrists or pops sleeping pills like M&Ms every time a potential companion doesn't wag his tail at her command. A disinterested reaction from her mom, living in Kuala Lumpur, suggests Kavya is a product of a neglected childhood, therefore harbouring an extreme need for attention.

What exactly fascinates Shekhar towards Kavya is never revealed. Is it her kohl-eyed beauty or fierce temperament? Or is it the fact that she comes on to him strongly? Your guess is as good as mine. It's affair time! Kavya's celebrity status ensures that Nandita learns of her pati parmeshwar's misdemeanors through the grapevine.

A little confrontation, confession, submissiveness and slap later, Shekhar and Nandita head for splitsville. There is no stopping this tear factory though. Soap opera melodrama and a shrieking cacophony ensues.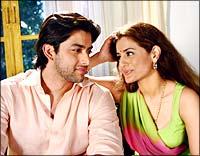 What rocks in this phony flick is Esha Deol's aggressive performance. She is a knockout as the desperate, obstinate,
pitiable, rundown, dominating and mentally ill Kavya. Esha's played a similar role in Main Aisa Hi Hoon with vulnerability and
restlessness. Here, she is ten times more compelling as anger flashes through her red, tear-soaked eyes. It is a terrifying sight and that's a compliment.

Amisha Patel's part is tailor-made for sympathy. At times she succeeds too, with her sincere sobbing and don't-you-love-me-anymore pout. But that is as far as it goes.

Playing their bone of contention appears to have had a hard-hitting impact on Aftab Shivdasani. The man maintains a 'huh' expression from start to finish.

Ankahee's biggest drawback is its weak characterization. Not only in personality, but also in sketch. The man is spineless. The wife is subservient. The other woman is self-centered. No more. No less. Also, weak dialogues.

Vikram Bhatt may have felt a lot of emotions, but Ankahee leaves you with just one: boredom.
Rediff Rating: