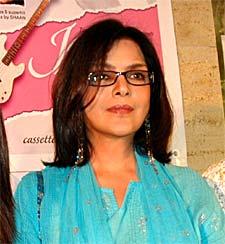 Screen goddesses of the past do not generally hog the limelight at film parties nowadays. But at the music launch of the film Jaana at a suburban Mumbai mall on Monday night, things were different.
It was Zeenat Aman's evening all the way.  

Almost all the people who had assembled wanted her autograph, or to just chat up with the woman who gave sensuality a new meaning in Hindi films of the seventies. 

Jaana will be Zeenat's first film in three years. She was last seen in Kaizad Gustad's Boom.
"I would like to say to as many people as possible that please go and see the film Jaana, because we all have worked hard to make it a good film," Zeenat said.
| | |
| --- | --- |
| | More on rediff.com! |
| | |
The film also stars yesteryear star Rajesh Khanna opposite her and features newcomers Rehan Khan and Anjana.

The film, produced by Tess Mirza and directed by Shahrukh-Farhan, is about Rajesh Khanna coming back to his native place after many years to find his old love Zeenat. The love between the young couple is also woven into it.

"It was a pleasant experience to be reunited (with her contemporary Rajesh Khanna) for the shoot," Zeenat said.

To the inevitable questions about her past glories, Zeenat said, "The past is past. There is no point in repeating what you did in the past. I think of today and today my film Jaana is coming and I hope audiences like it."

"It is a good feeling. I think Priyanka (Chopra) is a very good actress and she will do a good job," was Zeenat's reply to how she felt about her film Don being remade with Chopra playing her role.

On being prodded further about Don and Amitabh Bachchan, Zeenat said, "Amitabh Bachchan was a fabulous actor then and even today. He is one of the most talented actors in our industry. I would surely like to work with him if I get a good script."

The original oomph queen of Bollywood refused to answer questions about who she thought was the biggest sex symbol in the industry today. Instead, Zeenat emphasised that now there were many talented actresses.

 "I must say Rani Mukerji and again Priyanka Chopra are very fine actresses," she said. "They are doing a wonderful job."