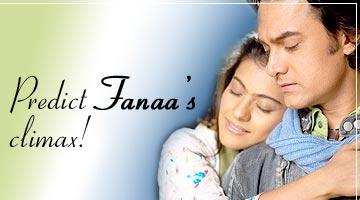 Fanaa, starring Aamir Khan and Kajol, is one of the most-awaited movies this year. And yet, producer Aditya Chopra and director Kunal Kohli are extremely tightlipped about the film.
Even the film's story remains a mystery.
While it is assumed that Aamir Khan plays a terrorist, Kajol plays a blind Kashmiri girl. But one wonders what Tabu's contribution in the film would be. And what the story will revolve around.
Will Fanaa be another Maachis? Or a 1942: A Love Story?
Besides, the title -- which means to die for love -- makes us wonder if Aamir will die once again, after Mangal Pandey and Rang De Basanti.
Well, let's see how you would handle the story if you were the director.
Predict the end of Fanaa. And we will showcase your writing talents right here!