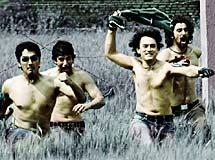 R
ang De Basanti
seems to be courting controversy as much as it has courted movie buffs.
The first controversy was sparked off when the Animal Welfare Board's protestation led to a week's delay in the film's release.
The second controversy erupted when Kavita Gadgil -- mother of an Indian Air Force pilot Abhijeet Gadgil who was killed when his plane crashed -- objected to its release as the producers did not first show her the film that was loosely based on her son's life.
| | |
| --- | --- |
| | More on rediff.com! |
| | |
Now, a newspaper advertisement is creating a new controversy.

United Television (UTV), the film's producer, has released a newspaper ad which claims that Rang De Basanti is the second biggest hit in the last ten years, and has collected nearly Rs 50 crore (Rs 500 million) in revenues in the Indian market, just behind the Sunny Deol blockbuster Gadar-Ek Prem Katha, the biggest Bollywood hit in a decade.

The advertisement claimed that RDB was way ahead in terms of revenues compared to other hits like Dilwale Dulhaniya Le Jayenge, Lagaan, Koi... Mil Gaya, Kuchh Kuchh Hota Hai, and many others.

UTV's assertion has opened a Pandora's Box, with many a Bollywood producer and trade analyst wondering how such claims could be made without proper validation.

Speaking to rediff.com, UTV Chairman Ronnie Screwvala said, "To the best of my knowledge, nobody has complained to me about this advertisement. I think it is only the media that is playing up this issue."

RDB's overseas collection too was encouraging as it grossed $5million (Rs 22.5 crore) in a month's time since its release, behind Kabhi Khushi Kabhie Ghum that grossed $8 million (Rs 36 crore).

Rang De Basanti scores in US, UK

Rumour in the film industry has it that big Bollywood producers like Karan Johar, Yash Chopra and Rakesh Roshan are upset over the advertisement. . . so much so that they are planning to demand an apology from UTV.

However, Screwvala dismissed these rumours, saying there is not an iota of truth in it.

"If somebody had a problem they could have called me and complained, but no one has so far," added Screwvala.

Trade pundits too have been taken back by UTV's tall claims: they feel there is no way the film could have grossed Rs 50 crore in such a short period of time after its release in the last week of January.

Taran Adarsh, a well-known film trade analyst, said: "I don't know how UTV has come out with such figures. There has to be some concrete proof to their claims, but we don't find it (in the advertisement). We don't know how the film did in markets like Bihar and interiors of India. I feel these figures are exaggerated."

"Do not degrade other films like Dilwale Dulhaniya Le Jayenge, Kuchh Kuchh Hota Hai and Gadar by publishing such statements. Ten years ago, watching films like DDLJ was inexpensive. So, I think it is wrong to compare."

Meanwhile, UTV -- which is a listed company -- is having a good time. Even the stock market has taken a fancy for the UTV scrip. The price of the UTV scrip has risen by nearly 40 per cent in the last three months, after RDB hit the theatres.

In his press statement to investors, Screwvala said, "RDB was released to packed houses and is rated as the biggest blockbusters of all time. RDB continues its successful run and we see value in its future exploitation."

On January 25, 2006, a day before RDB was released, the UTV stock price was Rs 180.75. On May 3, 2006, it had touched a high of Rs 250.

One can argue that since the stock market is witnessing a strong Bull Run, the UTV stock too is riding the wave. But when you compare the UTV scrip price with that of stocks of other listed film companies -- like Balaji Telefilms, Mukta Arts, Pritish Nandy Communications, and TIPS -- you find that these firms have not really performed as well as UTV.

The Balaji Telefilms stock rose by 16.5 per cent in the last three months, while Mukta Arts rose by 17 per cent. PNC showed an appreciation of only 3 per cent, and the TIPS price actually fell by 14 per cent.

UTV showed 67 per cent year-on-year growth in revenues for the quarter ended March 2006. However, the y-o-y net profit of the company fell by 21 per cent to Rs 6.6 crore (Rs 66 million).

Vinod Mirani, another film trade analyst, said: "One can never give the exact picture of how much money RDB has made in India. Somebody will have to sit and talk to each distributor on how much money he paid to buy the film and how much he earned from the film."

Asked to guess what the final collection figure for RDB would be, Mirani said, "I feel it cannot be more than Rs 35 crore (Rs 350 million)."