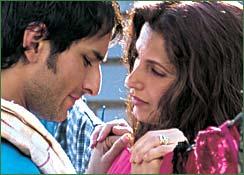 A feature film by a photographer has a few advantages. It is crisp, taut and precise, and rarely suffers from avoidable fluff. Being Cyrus falls into this category. A debut venture by director Homi Adajania, it is sure to take you by surprise.
You cannot help gasping at the way it weaves a gripping tale set among a small but intriguing Parsi community. In sharp contrast to Bollywood masala films, Being Cyrus, in its 90 minutes, makes sure you remain glued to the screen and think of nothing but Cyrus (Saif Ali Khan) and how he vibes with five other colourful characters in a bizarre yet interesting gamut of repartee.
The film is an intense psychological drama that shakes you to the core and leaves you thinking long after it is over. The director's expertise lies in the fact that the film's intensity never lies heavy on you. He deftly brings in some much-needed comic relief every now and then.
| | |
| --- | --- |
| | More on rediff.com! |
| | |
The plot revolves around Dinshaw Sethna (Naseeruddin Shah), a dope-smoking retired sculptor, struggling to make both ends meet with his aged yet voluptuous wife Katy (Dimple Kapadia) at a dilapidated house in Panchgani. Dinshaw opens his house to a stranger called Cyrus, supposed to assist him at his pottery school. It initiates a new chapter in the Sethna family story.

Cyrus regularly shuttles between two dysfunctional units –- Dinshaw and Katy's Panchgani home and an old building in Mumbai where Dinshaw's aged and much neglected father Fardoonjee Sethna (Honey Chhaya), his brother Farokh (Boman Irani) and way-too-young wife Tina (Simone Singh) live.

As Cyrus treads through the complicated households, the cracks begin to show and he soon realises there are far too many skeletons in the cupboard and too much swept under the carpet. As Katy pours herself all over Cyrus in her attempt to win his passion and make him dance to her tune, Cyrus decides to play a different game altogether. His is a complicated round of chess, with each member of the Sethna family a pawn in his hands.

As you are taken in by the profundity of the film's build up, a shocking twirl of events towards the end is sure to leave you dumbfounded. It will be unjust to give away the denouement. Instead, I suggest you watch the film.

Some delightful performances make the director's work a lot easy. Naseeruddin Shah wears the callous look of a forgotten artist with effortless ease, whereas Boman Irani as his scheming, blunt and quarrelsome brother could not have been more perfect. Boman, it seems, is getting better and increasingly unique with each role. A blend of humour and malice, his Farokh Sethna is sure to strike a chord with the audience. Simone Singh ably compliments Boman's presence, playing his naïve and oppressed wife to the T.

Hats off to Manoj Pahwa for a brilliant depiction of Inspector Maninder. Armed with some hilarious lines like 'I am suffering from shoulder bone disallocation (read dislocation)' or  'We, policemen, have to see death every day', he stands for incurable verbal diarrhoea. I can't think of any actor playing this role better. A particularly memorable scene involves him dealing with too much cream in his tea.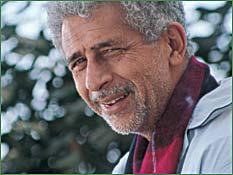 The sole actor who fails to satisfy happens to be Dimple, who systematically overacts, much to the audience's chagrin. Saif with his brooding eyes and snappy lines seem just cut out for Cyrus' part. It feels good to see one of the brightest faces of masala films playing such a different role. Honey Chhaya as the elderly Sethna is also superb.
There is some slick camera work, accentuated by an effective use of black and white. For instance, I loved the top shot with Saif lying in a bed of dry leaves. It was a nice way to launch the film. The editing seems a bit jerky at times, but this could be either intentional or amateurish. Andrew Belletty (sound design) and Salim-Suleiman (music) deserve special mention for lending the film a haunting flavour.
Dream sequences are cleverly interwoven into the main plot, lending credence to its conclusion. Being Cyrus has on offer some great comic moments, notably Boman's tiff with his neighbour over her pet dog which takes his car for a lamppost and his ordeal at the bonesetter's clinic.
Drifting from done-to-death ingredients like raunchy songs and extraneous fight sequences, Homi Adajania shakes the audience with his first film and raises a lot of expectations. Essentially meant for multiplex viewers, Being Cyrus introduces us to a talented debutant. And a fresh style of cinema.
Rediff Rating: