No plans for this weekend? rediff.com offers five great ways to spend your weekend at home!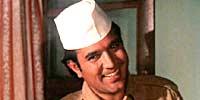 Cast
: Rajesh Khanna, Jaya Bachchan, Asrani, Usha Kiran, Harindranath Chattopadhyay, Durga Khote and A K Hangal.
Director: Hrishikesh Mukherjee

Plot
: An ingenious cook (Khanna) comes to the rescue of an ever-bickering joint family. So annoying are the folks of this household that it becomes impossible for any servant to handle the pressure for long. But the introduction of the extraordinary bawarchi leads to a series of fortunate events that bring out the hitherto hidden affection among the family members.

    
Aces: For starters, it's a Hrishikesh Mukherjee film. You can count on a convincing subject, realistic acting, and an overall charming movie. The subtle humour and feel-good factor provide a great backdrop to the precious message of kindness and acceptance to wipe out domestic woes. Khanna, who collaborated with Mukherjee on Anand and Namak Haram, shed his romantic image to clean utensils and make tea and Bhajiyas for this one. The result? Delectable!
Extras
: Available with English subtitles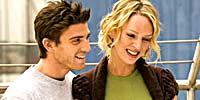 Cast
: Uma Thurman, Meryl Streep and Bryan Greenberg.
Director: Ben Younger
Plot
: A 37-year-old divorcee (Thurman) gets romantically involved with the 23-year-old son (Greenberg) of her therapist (Streep). If the age gap wasn't bad enough, the divorcee is not Jew -- much to the possible mum-in-law's chagrin. Will it work?

Aces: Younger guy, older woman -- predictable territory, right? Wrong! Prime takes an unpretentious and cheeky look at an odd couple trying very hard to get past the outer and inner complexities of their relationship. The Kill Bill star sizzles in steamy sequences with Greenberg and is equally home during her hilarious therapy sessions with Streep. Cool performances, engaging screenplay and a delightful soundtrack promise a Prime time!

Extras
:
Commentary by Director Ben Younger and Producer Jennifer Todd, Deleted Scenes and S
ub
titles in English, Spanish and French.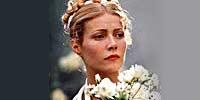 Cast
: Gwyneth Paltrow, James Cosmo, Ewan McGregor Greta Scacchi, Alan Cumming, Denys Hawthorne and Sophie Thompson.
Director: Douglas McGrath
Plot
: Her favourite game is playing cupid. Though her success ratio is definitely debatable. A string of unsuccessful operations, however, lead Emma (Paltrow) to understand the true yearnings of her own heart.

Aces
: Emma is perhaps Jane Austen's most adorable fictional character. Her American accent notwithstanding, Paltrow superbly conveys the innocent mischief and benevolence of this classic character. Meticulous with details, this period comedy offers a lot of entertainment. Also enjoy the lush landscapes of England, gorgeous vintage costumes and Rachel Portman's Oscar-winning score.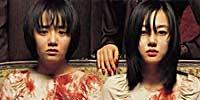 Film:
A Tale of Two Sisters
(Korean)
Cast
: Lim Su-jeong, Moon Geun Young, Yum Jung-ah and Kim Kap-su.
Director:
Kim Sung-Su

Plot:
Two teenaged sisters (
Lim Su-jeong, Moon Geun Young
) come to live with their indifferent father (
Kim Kap-su
) and nasty stepmother (
Yum Jung-ah
) in a huge house with a dreadful secret lurking in a closet. It is not too long before untoward incidents begin.
Aces: Adapted from a folktale called Janghwa Hongreyon-jon, A Tale Of Two Sisters was a massive hit in its homeland. Startling, unpredictable, tragic and mind-boggling, this tense psychological thriller grips you from the onset. There is no dearth of shocking twists or terrifying moments. Though nowhere as scary as Ringu or Ju On, A Tales Of Two Sisters should whet the appetite of a horror movie buff.
Extras: Subtitles in English and Spanish, commentary by the director, cinematographer, lighting director and stars.
Hidden Feature: A Letter from Su-yeon, behind the scenes, cast interviews, deleted scenes, post production documentary, director's analysis, psychiatrist's perspective.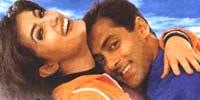 Film:
Jab Pyaar Kisise Hota Hai
(Hindi)
Cast
: Salman Khan, Twinkle Khanna, Namrata Shirodkar, Anupam Kher and Master Aditya Narayan.
Director: Deepak Sareen
Plot
: A rich playboy (Khan) mends his ways when he finds true love (Khanna). But his past catches up in the form of an ex-flame's (Shirodkar) bright boy. Nothing to fret about, except he is the DNA proven daddy of the lad (Narayan).

   



Aces
: Shot extensively in the lovely locales of Austria, Switzerland and London, Jab Pyaar Kisise Hota Hai has all the necessary Hindi film ingredients – romance, drama and comedy. Though the film's plot appears meaningful, it is treated light-heartedly to maintain the overall breezy mood. The Salman-Twinkle pairing was cute. Namrata was ravishing too. But it was Salman's warm, affectionate camaraderie with playback singer Udit Narayan's son Aditya that evoked all the awwws. Do not forget Jatin-Lalit lilting compositions like O jaana, Chal pyaar karegi, Pehli pehli baar and Is dil mein kya hai.
Extras
: Available with English subtitles