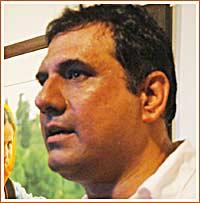 Steve Martin's tried his hand at The Pink Panther, and got bad reviews. Still, as the man once hailed as America's finest comedian steps into Peter Sellers' shoes, the attempt itself is enough to get us curious.
Boman Irani is very excited about the remake, and that leads him to reprimand Raja Sen about using the word 'blasphemy' while referring to Farhan Akhtar's remake of Don. In the first part of the conversation, the actor speaks of movie reviews. More excerpts:
Conversely, [as opposed to Munnabhai] a film like My Wife's Murder didn't do very well commercially, but got great reviews. In your book, is that a success?
No. Because I think that enough people that were meant to watch it didn't. We didn't want the world to go and watch My Wife's Murder, but it could have done better within its target audience. I think the target audience missed out on that film. And I genuinely feel it was a lovely, tight film. I though Anil (Kapoor) was very good. And, I daresay, my performance was pretty decent. I enjoyed what I did. The director was happy, and all who saw it congratulated me. I would have expected My Wife's Murder to have done better, but it didn't.
| | |
| --- | --- |
| | More on rediff.com ! |
| | |
Somebody singled out the scene at Gateway of India I did with Abhishek (Bachchan) in Bluffmaster, which I thought was great fun. And I thought it moved a lot of people. But one reviewer said 'I wanted to take a cycle and ride away from that place, because it was so boring.' To each his own.

My Wife's Murder also saw you in a starkly different role, quite a contrast from the Boman Irani people are used to…

Used to? (Laughs) They're used to one [character], actually, they're used to [my character in] Munnabhai! It's too big.

Too iconic a film to escape from?

Of course. And I'm not even going to try and recreate it. Each role should be different, and tackled differently. Munnabhai is the kind of film that changes your life.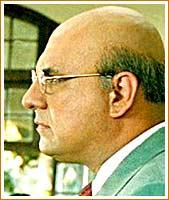 Which is more challenging, though? A farcical comedy or a more intense role? Which comes more naturally and which makes you work harder?
Challenging… I don't know. For me, every role should be a challenge. If it's not challenging, I'll probably not do it. Confidence should come out of facing that challenge. For example, when I heard about Eklavya, I tell you, I was frightened. And then, when you eventually see the film, you will call it a 'confident' performance. Your research makes your characterisation strong.
Even a small role. Take Don. Even in a complete action-thriller, it's very important to get some things right. To work out a graph for your character. You have to make it real; otherwise, what's the point? I'm not interested in another day at the office because that's not why we're actors. We're actors because we have the pleasure and the opportunity to play people that we are not. And if we have that opportunity, we can't be going through the motions.
Okay, but the conversation ironically brings us to a remake. How did you land up in Farhan's Don?
(Smiles) Someone asked me the other day if I was doing Don just because it was commercially viable. No, it's because Don was a film I watched as a child and now I can say, 'Man, I'm going to step inside of that screen!'
Does that, on any level, seem like blasphemy? Don is an extremely watchable and finely paced film, even on today's terms, with Amitabh (Bachchan) at his coolest. Why tinker with it?
Blasphemy? I think that's a harsh word. I think the thing is that India isn't used to remakes. Every third film in Hollywood is a remake; no one calls that blasphemy. Ben-Hur was a remake. No one has a problem with that.
Agreed, and we've had several versions of Devdas ourselves. But it's not the same, is it? There has to be a reason for remaking an already good film. In the current situation, this suggests a lack of originality, doesn't it?
No. Shakespeare has been 'remade' 560 million times, would you say that's blasphemy? No, because every film has its own texture and feel, its own treatment, its own take on the same script.
So, when you talk about remaking a film, is there a conscious intention to improve upon the original?
Not really. I think it's about your own take, and that might not necessarily be a better film. The old Ben-Hur (1925, directed by Fred Niblo), was the one starring Ramon Novarro, and the director's assistant (second unit director William Wyler) made the big spectacular Ben-Hur (1959), the one we all know about. He improved on it. I don't think he set out trying to improve upon the film, but he wanted another go at it with the cinematic techniques available to him, because the subject was exciting to him. Farhan is excited by [Don]. Why is that blasphemy? Does that mean we should never have another Merchant Of Venice?
But a play, or a novel, or historical event is open to varied interpretation because there isn't any visual precedent. A film script, on the other hand, is written and visualised. And then there are the great films. Don't you think there are some sacred films that shouldn't be remade by anyone, like the otherwise talented Gus Van Sant's remake of Alfred Hitchcock's Psycho?
Yes, they shouldn't have tried a Psycho remake, I agree. It was a frame-to-frame remake, and I can't believe how stupid and unnecessary that film was. It was just very bad. But then, that's a cult film, and you can never, ever, remake a cult film.
On the other hand, when Farhan talks about Don -- wanting to redo the songs, wanting Shah Rukh Khan to mouth some of the same dialogues, to recreate Khaike paan -- you get the sense that he's feverish with excitement. The film is a trip for him.
Exactly! It's a trip! Don't deny him that by labelling it with words like blasphemy. That's his boyhood fantasy, yaar. Let him live it, let him be. Doing a good remake is better than making a frame-to-frame copy. I'm against a rip-off, but a remake could actually be fun. There's a different take on every scene, sometimes. A frame-to-frame copy is so boring; you're trying to recreate somebody else's success. A remake has to do with the passage of time, the change in perception, and storytelling technique.
And there's always an element of tribute…
Absolutely! Well said! A remake, if done well, should have some affection for the original. That's why you're remaking it, right?
So now, when a comic like Steve Martin steps into cult territory with his remake of Peter Seller's iconic Pink Panther character, he's on very thin ice. But one is curious to see how he plays it. What about you? Are there any roles, characters, in particular you would love to try out?
You can't do that, because you've got to make the character your own. Now, inadvertently, in Don, I'm doing Iftikhar saab's role. But it's not that I stand and say 'now you wait and see what I do with it.' It's not that at all. He brought such dignity to that character; I respect that.
In terms of dream performances, look at Jack Nicholson; I wish I could have been in One Flew Over The Cuckoo's Nest. But it's magical. It's his performance, and he made it his own. No one else can play it like he did. So, Don isn't about proving a point and saying 'look at me, I'm better than the original.' It's Farhan being passionate about a film he trips on. Bas, finished! (Smiles)
Before we wrap up, we should really talk about this film, Being Cyrus.
Oh, and I must say it's a wonderful film. Honestly.
You're playing an unsavoury character, Farukh Sethna. How do you get under the skin of a disgusting individual?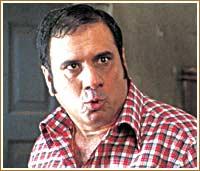 I have my own way. I honestly believe in what Anthony Hopkins told Jodie Foster in Silence Of The Lambs: 'There is a dark man in everyone. It's just that we choose to be who we are.' Even the nicest human being can play a villain, because we all have the potential to be evil. It's very interesting to see that there's a possibility you could be that cruel. You understand yourself a lot better.
All the film's publicity focuses on Being Cyrus being a dark film. What do you think audiences should expect, going into theatres?
Funny. Very, and judiciously, funny, but dark. I think it takes you to a world where a simple old man is at the centre of deviousness and games, and people will get to see interesting characters who might seem familiar, yet unfamiliar. I think one of the reviews said 'a complex story, very simply told.' I think that's a terrific way of putting it. It's an extremely complex story, but it's so simple. And what a great cast! Naseer, Dimple, Manoj Pahwa, Saif, and Simone.
Tell us something about Homi [Adajania, the debutant director].
He's a very cool man, a guy who came to me armed with a script. He's also someone who puts that into a vision, while he's talking to you, tells you the reason he wants to do the film, and the reasons are right. I don't want to sound like a big daddy saying I want to 'support' him. Of course you do! But you also want to be part of it. No one is doing charity and, at the end of the day, it's very important to understand that there is a new Indian cinema, and there are many kinds of emerging cinema in this country, and that we need to be open to it.