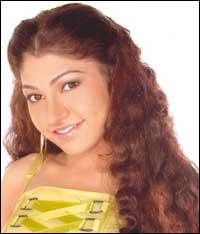 The daughter of music baron Gulshan Kumar has decided to join the business. As a singer.
19-year old Tulsi Kumar already has seven devotional albums to her credit, along with two films -- Hum Ko Deewana Kar Gaye and Aksar. It's a passion she's had since childhood. When she was little, her father once heard her sing, and liked it. He decided on her taking formal training, which she began at age 6. Tulsi spent two years at Suresh Wadekar's Academy, but had to then move to Delhi to escape the turmoil her family underwent after her father's untimely death.
She gave up singing for a while, until her mother forced her into it again. She started classes again, this time under Arvind Jha, learning light classical music for four and half years. The film songs didn't happen at once. Tulsi first sang for a few devotional albums with Sonu Nigam, Udit Narayan, Suresh Wadekar and Anup Jalota. She was 17 at the time, but her training gave her tremendous confidence. Like most struggling singers, she sang remixes and cover versions of Lata Mangeshkar's old hits.
"When my brother heard my last album Lal Lal Chole Wali, he liked it and asked me to sing for our home production. I was excited because I knew he wouldn't offer it to me simply because I was his sister. I realised it would be the first time I was going to sing for a film -- that too with a big composer like Anu Malik."
All of Tulsi's songs are for T-Series, be it for film or otherwise. "If there is scope and work at home, why go out?" says the singer. "I won't try any other company and haven't even decided on what I am going to do if I get any outside offers."
Hum Ko Deewana Kar Gaye is a home production she signed first, singing the title track with Sonu Nigam. But Aksar was the first to be released. "People liked the track Mohabbat Ke, so I think I did a good job and am satisfied." She met the star cast when they shot the video together. "It was a very good experience," says Tulsi. "It was the first time I was going to be on screen and I was a little nervous, but things shaped up well."
She says she will continue doing devotional albums. Her brother is also planning a pop album, but nothing has been finalised. "I practice every day, whether I have to go for a recording or not. When there isn't any recording, I spend the day listening to music." The teenager admits to being a big fan of Lata Mangeshkar. "She is like a teacher to all budding singers," she says. "Among male singers, I like Udit Narayan and Sonu Nigam. I like the music of Himesh Reshammiya and Anu Malik, as I have worked with them, but I also like the compositions of M M Kreem and Ismail Durbar."
What is her favourite song? "Chand Phir Nikla from Paying Guest, and Woh Jab Yaad Aaye from Parasmani," she smiles.
Netflix delivers DVD rentals -- from $ 9.99 a month. No Late Fees, Free Shipping. Two week FREE Trial.