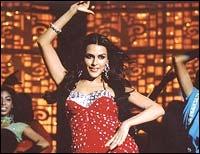 There are three rules you must keep in mind to watch (read suffer) Teesri Aankh - The Hidden Camera:
* Throw logic out of the window.
* Overlook Sunny Deol's age, his puffed-up eyes and his ugly wig.
* Believe the improbable.
| | |
| --- | --- |
| | More on rediff.com! |
| | |
But then again, even if you follow the above, it seems improbable that you will like the film. Teesri Aankh fails to meet the basic norms of filmmaking.

Assistant Commissioner of Police Arjun Singh (Deol) reaches London to nab Sudama (Mukesh Rishi), the kingpin of a porn film racket. The evil Sudama, aided by hidden cameras, earns his living by selling nude pictures of Indian girls.

Through a queer chain of events, Arjun's girlfriend Sapna (Neha Dhupia) is ensnared by Sudama and his assistants Dinesh (Mukesh Tiwari) and Dinesh (yes, Dinesh again, played by Murli Sharma) and is murdered.

Interestingly, director Hari Baweja does not introduce even a revolver, let alone an automatic weapon. The murderers stick to a chaku instead.

The only witness to the event happens to be a mute film director, Ammu (Amisha Patel). Dinesh and Dinesh, naturally, want Ammu silenced.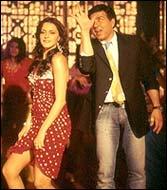 Meanwhile, Arjun, who is trying to nab the pornographic filmmakers, has a chance meeting with Ammu and leaves no stone unturned to protect her.
Ashish (Aashish Chowdhry) and his love interest Aarti (Aarti Chhabria), Ammu's sister, do little but observe the Arjun-Ammu combo busting the porn film racket.
So much for the plot.
If you are shocked I gave the end away, let me ask you: Do you really expect an unconventional, twist-in-the-tale ending from this film?
The director seems to have severed all ties with reality. Or else why do we see Londoners in distress -- instead of calling the London police -- get assistance from an Indian cop (Ayub Khan)? Are Indian policemen given extra powers in London?
Moreover, Baweja does not bother to explain how Sunny comes across Amisha's address in so short a time. Perhaps the Interpol personnel might like to exchange notes with him. The filmmaker also fails to clarify why the goons and assigned killers prefer to use archaic tools of murder -- motorbike spikes, daggers and knives.
No point in wasting words on the other facets of the film like acting, screenplay and music. They fall way below expectations. It's time someone told Amisha that fluttering eyelids have nothing to do with acting.
Besides, even though Sunny has a 'guest' appearance, he flexes his muscle throughout the length of the film.
There is only one way to enjoy Teesri Aankh (which is being touted as a thriller) -- watch it as a comedy.
Netflix delivers DVD rentals -- from $ 9.99 a month. No Late Fees, Free Shipping. Two week FREE Trial.