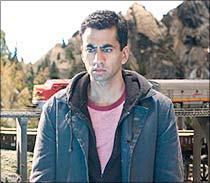 As Superman Returns flies to more than 5,000 screens across North America on June 28 in the hope of setting summer records, 28-year-old Kal Penn, who has quickly become Hollywood's newest millionaire actor, is getting ready for his biggest movie exposure as yet.
And he is playing a bad guy for the first time in his career known mainly for comedic roles in such films as the stoner flick Harold and Kumar Go to White Castle.

Kal plays Stanford, one of Lex Luthor's henchmen, in Superman Returns, one of the most eagerly awaited films of this year. Oscar winner Kevin Spacey plays Luther, the 21st-century update on Superman's archenemy.
Kal says the movie is 'like nothing I've ever seen.'

'This is one of those great roles that is an example of when incredible directors and writers can think outside the box,' Kal told comics2screen.com. 'They're colourblind casting. They write characters for characters, not for what they look like.'

In Superman Returns, the Man of Steel (Brandon Routh) embarks on a journey of redemption that takes him from the depths of the ocean to the far reaches of outer space.
Kal, who appears in crucial scenes in the film, has never been in a big budget film of this proportion. Harold and Kumar…
was made for $9 million; the new Superman film, directed by Bryan Singer, reportedly cost $200 million.

The year 2006 has been extraordinarily great for Kal Penn; he has signed for a sequel to Harold and Kumar… This time the funny guys would go to Amsterdam. And the paycheque is reportedly to be bigger than what they got for the first film.

He would also be seen in a few months as the lead in the emotion-packed Mira Nair film Namesake, based on Pulitzer-winner Jhumpa Lahiri's bestselling novel.
'Oh, man, it was incredible,' Penn said referring to the Superman Returns shoot. 'It was like nothing I've ever seen. You see these incredibly talented set designers, and obviously Bryan [Singer, the film's director]. It's that kind of film.'

Kal also says he got a great kick to see his buddy Brandon Routh play the man of steel. 'Brandon is fantastic,' he said, 'But I'm actually biased, because we were friends for about four years before we got to work on this.'
Meet Superman's arch enemy

And then there were veteran actors such as Spacey and Frank Langella. 'To see these incredible actors that you've seen in other things before play these compelling characters with that much history to them, I can't wait to see it (the film),' he said.