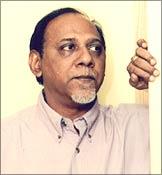 There was outrage the world over when news broke that Hollywood starlet and socialite Paris Hilton was to play Mother Teresa in an English film by Malayalam filmmaker Rajeev Nath.

Nath, who has been making award-winning films for almost three decades, is part of an elite group of 26 filmmakers to win the Best Director award at the National level. He won it for Janani, his film in Malayalam. In an exclusive interview with rediff.com, the director speaks about his dream project on Mother Teresa. And no, Hilton is not going to play the part!

Why the decision to make a film on Mother Teresa?

A long time ago, when Mother was alive, I remember passing by the home of the Missionaries of Charity. I felt like meeting her and went in with a friend of mine. To my good fortune, I met and spoke to her. I was enamoured by her sincerity and dedication.
| | |
| --- | --- |
| | More on rediff.com! |
| | |
After returning from Kolkata, I discussed her life with Malayalam scriptwriter John Paul. He had written a fictionalised account of her life, and that is the inspiration behind my film on her.

You mention a fictionalised account. Does that mean there will be an element of fiction in the screenplay?

The script is based on her life story. I don't think there is any element of fiction in it. But there are a lot of dramatic moments. For instance, the respectful relationship between Jyothi Basu and Mother Teresa. Both began their careers at the same time; she was Sister Agnes and Jyothi Basu was the local councillor. Both grew as the years rolled by. He became Chief Minister
of West Bengal and Sister Agnes became Mother Teresa. Apparently, he used to say that Mother Teresa could meet him anytime, even if a Cabinet meeting was going on. That was the kind of respect and admiration he had for her.

He came to her rescue several times. He had instructions that there should never be a power failure at Mother's place, and Kolkata was famous for its power cuts. There was a power failure at Mother's place just once, when she died. When the electricity returned, she was no more. There may be some exaggeration in this story, but it is dramatic. I also want to stress on Mother Teresa's role as a social reformer, not a religious person.

Is the script ready?

John Paul has given me a lot of inputs and the first draft is ready but I am still working on the script. I will portray her life from the age of 38 until her death. We will start from the Bengal famine and the place will be Kolkata.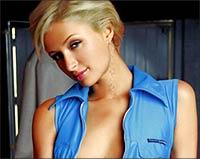 Why did you decide to have Paris Hilton portray the role of Mother?

Ever since the idea of the film came to my mind, I was on the lookout for a face that resembled Mother's. One day, I saw a photograph of a lady in The Indian Express and found a similarity in her innocent face and that of the Mother. I didn't know who she was. I had no idea who Paris Hilton was at the time.
I called a journalist friend and mentioned that she would be ideal as Mother Teresa. Somehow, the news spread. It reached such a stage that Hilton 's secretary called to ask me what it was all about. It is only after I went to America that I realised who she was. I would like to have an East European play the role. The search is still on.

Have you thought of an actor to play Jyothi Basu?

I would like Mithun Chakraborthy to do that role. He would be ideal.

There were reports that Mohanlal and Kamal Haasan would also act in the film.

Yes, they are willing to cooperate. I have been in this industry for the last 30 years, and I have a lot of friends. I am not going to make this film for profit. The money we make will go to the Missionaries of Charity. So, all my actor friends are ready to be part of it. Not just Mohanlal and Kamal Haasan, some from the Hindi film industry will also be in this film. It is a non-profitable venture, a special cause. There are lots of people ready to fund the film, but I will make it only when I am satisfied with the script. That may happen some time next year.

What will Mohanlal's role be?

There is a man called Captain Ramesh in Kolkata, during that period. When the film begins, he is a Captain. He later becomes Commissioner of Kolkata and lends a lot of support to her. I have not defined those characters well yet, which is why I don't want to talk about it now.

What about Kamal Haasan?
There is an Indian priest in the film, and I want him in that role.