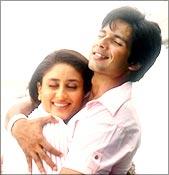 Here's the truth: When farce is stretched beyond its limit, the outcome is a dud.
Priyadarshan's latest, Chup Chup Ke, awkwardly fluctuates between funny and feeble. The plot? When all attempts at business go bust, Jeetu (Shahid Kapur), hassled by a large line-up of creditors, decides to take his life. The small town lad assumes the insurance money his demise will bring may ward off his woes and make life easier for righteous papa (Anupam Kher) and loyal girlfriend (Sushma Reddy, who grates on your nerves with her simpering).
His attempt at drowning himself in the ocean fails though. Discovered and rescued by quirky fisherman duo Gundya (Paresh Rawal) and Bandya (Rajpal Yadav), Jeetu lands in Kolkata and is presumed to be deaf and dumb. The arrangement suits him just as much. The charade that ensues is packed with laughable moments.
Gundya, meanwhile, owes a huge sum to Gujarati businessman Prabhat Singh (Om Puri). Normally, one wouldn't mention the Gujarati bit. But it is the subject of so many daft digs in the film that you can't help but make note. The raucous Singh strikes a deal with Gundya. In exchange for Jeetu and Bandya's services, he will give Gundya as much time as he needs to pay back the money.
Shahid: Playing dumb isn't easy
Jeetu and Bandya's stay at the household results in a whole lot of linguistic confusion. Through their misadventures, we are introduced to new characters: household supervisor Natwar (Shakti Kapoor), Singh's nephew Mangal (Suniel Shetty doing his over-protective brother routine), his mute sister Shruti (Kareena Kapoor) and cousin Meenakshi (Neha Dhupia).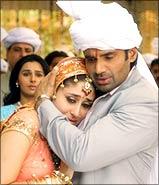 Meenakshi and Shruti discover Jeetu's secret quite early in the film, making you wonder about the basis for a climatic twist. Bizarrely, romance blossoms between Shruti and Jeetu. This odd and hasty development is so bogus, you find yourself frantically anticipating Paresh Rawal's next scene. The wait seems endless when what you presumed to be a comedy takes the face of dreary melodrama.
Neha tells all on Chup Chup Ke

The all fists and fury big brother Mangal eventually bows to little sister's wishes. It's bhangra time as Jeetu and Shruti put on designer outfits and boogie to Himesh Reshammiya's lifeless beats. Looks like no one told him it's a Gujarati household -- so much for bringing it up every five minutes in the film. And then, Jeetu's erstwhile sweetheart Pooja plays party pooper by showing up.
It takes many more twists, turns, sacrifices, punches, tears and a wedding before Chup Chup Ke finally ends.
'I never come up with an idea'
Paresh Rawal and Rajpal Yadav's tremendous chemistry makes up for Shahid and Kareena's lack of the same. The perfectly timed duo keeps the picnic going with gusto. Alas, they are let down by the writer for the film soon runs out of gags, slapstick and steam. There is very little of Rawal here. He is the one on whom Priyadarshan relies for tomfoolery, as is evident in their earlier films together like Hera Pheri, Hungama, Hulchul and Malamaal Weekly.
Shahid's boyishness has a Dennis The Menace-like appeal about it. As long as he's required to be an imp, he works. But when the emotional angle comes in, he wobbles. His pairing with Kareena continues to be status quo: aloof. The actress doesn't have anything to do. And I am not referring to dialogue delivery here. Her Shruti is a fragile, pretty thing who paints, prays and wears lovely Manish Malhotra clothing.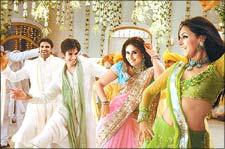 In contrast, Neha Dhupia bags a meatier part. She utilises the opportunity to the fullest with pluck and confidence. Om Puri can play boisterous quite effectively even if his role here isn't of the same calibre as that of Jaane Bhi Do Yaaron or Chachi 420.
Thanks to Thiru's dazzling cinematography, the stars look breezy and bright even against the Sabu Cyril's crowded, forlorn décor.
Mix-ups and buffoonery are fun to an extent. But when it starts substituting comedy with clamour, Chup Chup Ke loses focus and the viewer's patience.
Rediff Rating: