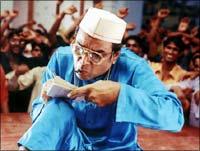 People debate Bollywood opinion all the time, but some things are just rooted in fact. For example, who is the real star in the hilarious Hera Pheri?
No question, the verdict is unanimous: Paresh Rawal, who plays Baburao.
One of the finest actors of his generation, Rawal will next be seen in the sequel, Phir Hera Pheri, releasing this Friday. Raja Sen briefly caught up with the actor, and here are some excerpts of their conversation:
| | |
| --- | --- |
| | Paresh Rawal on rediff.com! |
| | |
What do you think is Baburao's appeal?
His innocence. His logic. Even his -- what's the word? -- cunning is full of innocence. And the way he tackles the situation -- he thinks he has arrived, he is a man of wisdom, but this keeps on changing all the time. I think if you look at it some kind of sadness is also there about Baburao.
How do you see his role in relation to the other two characters? Is he a father figure to Raju and Shyam?
He is, kind of. He is a senior person. He has seen the world and has suffered a lot. And he is full of wisdom, at least compared to these two guys. So he is a father figure.
You've acted in several movies over the years, but Baburao remains one of your most popular screen avatars. How does he rate personally in terms of your films and roles?
I think he's a huge success. Baburao's almost turned into a cult figure. For me, I think Sardar Patel (who he played in Ketan Mehta's Sardar) and Tamanna (Pooja Bhatt's film, where he played a transvestite) and a few other characters are my favourites. But this is hugely popular, hugely successful -- and that is the best part of it.
What's your take on sequels?
See, these days if a film gets this successful, it's likely that they'll think about sequels. Jaan laga di hai maine -- I've really worked hard for this film. Let's see what happens.
Unlike the first film, there are a few too many characters this time around. The first one was only about you three…
Yeah, but luckily and fortunately all the characters are very well-etched out and it is fine. But having said that, as you say, it is a kind of too-many-characters film. Sometimes what happens is that -- not out of insecurity but because the expectations of the people are so high -- to fulfil that you really stuff the film with everything. You push in all the cushions and the padding. So this could be a result of that.
What kind of comedies do you personally like?
I like intelligent comedies. Comedies, which have some kind of wisdom, some kind of thought behind them. Not a stupid comedy. And not a comedy which tries to get laughter at the sake of the character. The character must not be sacrificed. I wouldn't like to sacrifice my actors for the sake of a few laughs.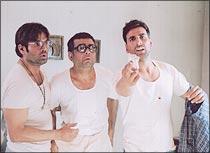 What about comic actors? Who are your favourites?
Naseer, Amitji, Omji – those actors. They are great actors, and that's what makes them good comedians. A good comedian has to be a fine actor all around. You see Naseeruddin Shah in Jaane Bhi Do Yaaro and you come to know how good he is. If you want to call him a comedian, then you can do that. Omji in JBDY and then Chachi 420… it's amazing.
Reshammiya disappoints with PHP
You shot a music-video for the film, a promo..
(Laughs) Yeah it's a trend now, so it must be done. One has to move with the times, right?
What do you think of Himesh Reshammiya's music?
Yaar, my taste is more towards old Hindi music. And looking at the current musicians, I really like Rahmansaab's work. AR Rahman is truly great. As for the others, maybe I just don't understand their music. The old songs give me some peace of mind.