It's the rare kind of film that has critics eagerly booking tickets in advance. Vishal Bhardwaj set the Shakespeare ball rolling with Maqbool, and the director now tells Raja Sen about his Othello follow-up, Omkara.
Where does the fascination for Shakespeare come from? You weren't a student of literature...
I was a total filmi kid who used to like Amitabh Bachchan's films. I was born and brought up on Vishwanath, Kalicharan and Amar Akbar Anthony. But, when I came in contact with Gulzar and saw his films, I realised Angoor was a brilliant adaptation of A Comedy Of Errors. Also, I wanted to touch a chord with international audiences, so there were many commercial considerations in my head. It was not for art or for literature.
But filmmaking came suddenly to you. As an established composer, what made you want to direct?
I entered the industry as a music composer, with Maachis. At the time, I knew I would only get success through music. I knew nothing about filmmaking. In the industry, everyone from the spotboy to the producer feels he is the best filmmaker in the country. But, somewhere, I knew I wasn't a filmmaker.
 I began going to festivals and getting exposed to international cinema. That's where I realized the power of cinema. After seeing [Polish genius] Krysztof Kieslowski's Dekalog, I went berserk and decided I wanted to be a filmmaker.
From music to direction must have been quite a transition, I can't think of any successful parallels. What was your next step? 
Then, the study began. I started reading about direction, about screenplay writing. In those days, incidentally, I was travelling with a kid who was carrying a copy of Tales of Shakespeare, an abridged version for children. I happened to pick it up (laughs) and the first story I read was Macbeth. I found it so dramatic, so right. I wanted to make a film on the underworld, but a human story. Everything somehow fell into place with Macbeth.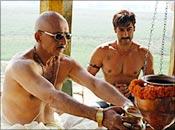 And that led to more Shakespeare?
After reading Macbeth, I thought this was a work of genius! (Laughs) Who is this William Shakespeare? I then read all his plays and thought I could live my life making films on his plays. If you're even a little intelligent, you can't go wrong by adapting his work.
While Gulzar's Angoor is a very loyal and simplistic adaptation, your films add a contemporary layer.
Yes, because my intention is not just to adapt the play. My intention is to adapt it and make it look like an original work. After a point, I forget that Shakespeare has written this. I start believing that I have, 400 years ago, so it is my birthright to change everything. That's how I do it.
But there is still loyalty to the high drama, the structure. There are deft nods to the originals almost constantly.
Obviously, if I don't remain true to the spirit of the play, I'd be a fool. That is what has worked for the past 400 years. And the characters' names (smiles) are tongue in cheek; I mean, from Desdemona to Dolly Mishra, come on! 
Why then isn't your Iago called Langda Tyagi? Where's the I?
(Grins) Iago, at one point in the film, is actually called Ishwar Tyagi. His name is Ishwar but, because he's lame, everyone calls him Langda. At one point, not everyone will notice, but some will catch Vivek calling him that -- 'kya Ishwar bhaiyya…' Konkona's arm also has her husband's name tattooed on it -- Ishwar Tyagi. It's not something that will visually register to most, but his name is definitely Ishwar.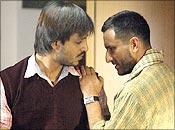 Iago is the central protagonist, and a far more crucial character than Othello himself. Is that the case here as well?
Yes, because everything is done by Iago and everyone around him is being made a scapegoat. They are like puppets, and he is the creator. But the other characters are also interestingly done. For instance, in the original, Othello is too dumb; he believes everything Iago says. Here, he double-checks. So, I've made Iago even smarter, to counter those situations.
Is there any particular reason why it's set in Uttar Pradesh?
I wanted a violent backdrop, and I think UP and Bihar are states of abject lawlessness. Moreover, I am from that place, I belong there and know that dialect. These people have not been seen in our mainstream cinema – the characters of small towns, the little mafias, the street fights over girls – it's that crazy, Wild West kind of place.
Was this decision to stick to a hardcore dialect difficult for the actors?
It was. But that is why everybody worked so hard. Saif's job was a nightmare. I had given each actor a CD of their dialogues, in my own voice. Not only did Saif have the maximum dialogue, he also had the most idioms and expressions… The most meat was in his lines, and he took up that challenge. He started behaving like that even in real life, otherwise it wouldn't be possible.
Was this your ideal cast? It incorporates a lot of surprises, at least on the surface level. Kareena is a fine actress, but casting her as Desdemona is a bit of a jump. People are incredulous, and curious.
It was a challenge for me too, taking these mainstream actors and asking them to do such a great literary work. The thought of literature can be very intimidating. But Shakespeare's work is very entertaining, and deeply rooted in human psyche.
Do you like the experimental adaptations of Shakespeare, like the Baz Luhrmann Romeo & Juliet, the Akira Kurosawa Throne Of Blood? Or do you enjoy Kenneth Branagh's straight period adaptations?
I can't see the straight films. I find them very boring. The experimental stuff is amusing and exciting. Of course, Kurosawa was incredible. Making it a period film is no fun. It's more exciting to find the parallel for witches in today's time, to not make it supernatural. I wanted to bring my own identity, my own creativity to the project.
What are your overall cinematic preferences, in terms of world cinema and Indian cinema?
In terms of Indian cinema, if you really look at it, there really isn't anything to admire. Except, of course, Satyajit Ray. Then there are the kitsch films of the 70s, which hold great nostalgic value for me. I love Amar Akbar Anthony and Don -- those films were very true to the Indian genre, to their spirit. But, in terms of profound cinema, there has been very little. Only Gulzar has been able to achieve that, to bridge mainstream and sensible work together in Koshish, Parichay, Achanak, or the way he explores the man-woman relationship in Ijaazat. But Gulzar has never been very shocking; he is a poet at heart. So, I try to shock more.
So, do you prefer international filmmakers who make more provocative films?
I love all kinds of cinema, but my favourite remains Kieslowski. I have seen all his films and love them. Also, Kurosawa. My favourite director is Quentin Tarantino though -- I love Kill Bill. I can live on it. I love Pulp Fiction. And (Japanese director) Takeshi Kitano is a madman -- I love all his films. I want to go home right now and watch Kill Bill again! My fascination for Tarantino and Kitano, plus the poetic cinema of Kieslowski and Kurosawa -- the combination makes me a little different. Mine aren't just hi-fi arty poetic films, they have guns and blood and humour.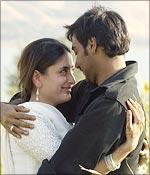 Did any of your A-list cast really surprise you?
The one person who surprised me was Kareena. With Saif, I knew he would pull it off, considering the kind of hard work he put into the role. My own unit members were scared about how he would do the role. After all, he has a very urban, lover-boy image and this character is rooted in a village and is a hardcore, creepy criminal. But I was always convinced Saif would do a great job.
Kareena was a big surprise. I didn't know she had such sensibility. For her age, she is very deep and sensible, and very sharp. She catches the nuances, and her concentration is superb -- very powerful and focussed. It is truly a rare combination of beauty and intelligence.
Were there any particular Shakespeare moments difficult to adapt in Omkara?
Othello was relatively easier to adapt. Macbeth was the tough one, because we took away the supernatural element and the ghosts. Here, the alterations were physical, from a handkerchief to a cummerbund… Othello is a more basic human drama.
Do you have a favourite moment in the film?
Many, many moments. But one is very special where Vivek is supposed to teach an English song to Kareena. She is a Hindi medium school, small town girl and she wants to learn a song for Omi. I didn't want to record it using a professional singer, so I asked Vivek to sing for me and he knew some songs. I appointed a guitar teacher for him and he taught him a few chords. We filmed that song live -- I just called to say I love you -- and I think it's a very cute, funny and entertaining moment in the film.
Will there be a Shakespeare trilogy? If yes, will you stop with the epic tragedies and maybe try a comedy?
Maybe. It all depends. I'm too tired now. After making one or two films, I'll come back to Shakespeare. By that time, lots of people may have adapted his plays. They're doing that now. I'll look at a great play that has been left unused, one I can interpret in my own way. Actually, even if someone has made Hamlet, I could still adapt it my way. Or I could take something like A Midsummer Night's Dream.
Do you think Omkara is a film for the masses? Will it work for your non-multiplex, non-Shakespeare moviegoer?
I think it will, because it has a hardcore humour and language, and the street characters have a lot of masala in them. The gist of the characters and the drama is very profound, but it is performed by the street folk, which is entertaining. My Omkara is a very vibrant, funny Othello.