Somewhere, there must have lurked a good idea. Perhaps on paper, there was indeed a certain something to these four briefly-interlinked stories about Indians heading, for varied reasons, to America. Then again, maybe a multiple-narrative tale is too dynamic a format for a debutant director with far too much industry experience under his belt.
Naseeruddin Shah's Yun Hota To Kya Hota is another example of the increasingly familiar India-indie scenario, a well-intentioned effort not quite lasting the distance. The film is an impressively ambitious one, trying to weave four complex stories running parallel to one another, their paths fatefully criss-crossing only near the very end. But, despite the obvious effort and solid performances, the film severely lacks finesse.
The quartet is flawed. The stories themselves, while replete with sudden, strikingly bright moments (all too rarely, alas), are sketchy and half-baked, with interesting yet never quite revealed characters jostling violently for screentime. The final result is watchable, occasionally amusing but, thanks to all the cracks in the surface, tragically forgettable.
Konkana Sensharma and Jimmy Shergill lie blissfully in their wedding bed, a disparate multicultural pair who met online and fell in love. Their hands-on romance is warmly aggressive, but career beckons its ugly head. Jimmy has to head to the US immediately, leaving Konkana stranded with a peculiar family, headed by a hostile American mother-in-law.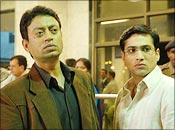 Meanwhile, Irrfan Khan and Karran Khanna (hilariously named siblings Salim-Javed) are stockbrokers with a distinct Pulp Fiction hangover: they wear black suits, snort coke as they leave the house, try their own brand of smart-talking and, next to them, people get shot. Plus, Irrfan can't get enough of a disturbingly sexual Suhasini Mulay.
Paresh Rawal, under the ambiguous guise of 'show organiser', conveniently smuggles youngsters into the US. Camouflaging these aspiring America hopefuls nets him a neat bundle, and all is well until Ratna Pathak Shah, a lover from two decades ago, re-enters his life wanting to send her daughter the US way.
Then there are the kids. Ankur Khanna has his letter of acceptance from UCLA, but isn't quite ready to run -- a reluctance totally lost on wannabe-Yank buddy Nitin. Naseer's son Imaad spouts shudh Hindi and derides the brain drain, while Ayesha Takia is determined that the youngster should go abroad, come what may.
While the characters are individually compelling and curious, only few are actually fleshed out. The first half of the film runs at breakneck pace, packing in far too much to make any sense of. Subtle side-nuances lie eclipsed by the need to force more 'plot' into a scene. As the stories are haphazardly built-up, there seems little purpose to it all, the stacking up situations coming across as contrived and amateurish, without proper flow.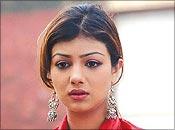 A major reason for the amateurish feeling throughout the film is the dialogue. Left to itself, Rawal's Gujarati and Sensharma's Bengali bits are superbly natural, but the film strings through a smattering of English, which consistently disappoints. The words are written cloyingly and spoken with the kind of exaggeration that makes their characters cardboard. Worse, affected by this dilemma is the story involving the youth, with accented cliched lines out of a bad ABCD flick. And Irrfan's character has absolutely no business occasionally lapsing into English.
Also, for a film so intimately involved with dialogue, the dubbing is astonishingly bad. The characters are often disastrously out of sync, mouths moving to words we never hear, making it difficult to judge a performance. Then again, that is the one area where Yun Hota gets maximum points, an excellent cast often individually rising above the movie itself.
To be fair, the film's second half is infinitely better than the first, giving the characters and their stories some room to breathe. We begin to understand the characters and their motivations a lot more, and as the film ploughs through to its inevitable conclusion, we brace ourselves wondering how it will be handled. Yun Hota deals with a catastrophe that shook the planet, and remains fresh in everyone's eyes. While Naseer manage to showcase the sudden aspects of the impact well, there could have been more discretion, particularly in terms of using amplified boom sounds. With all due respect, this event requires no further emphasis. I liked the abrupt end, though.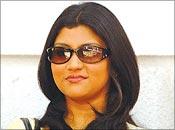 The director has herded his actors well, the gang never really over-acting. Paresh Rawal and Ratna Pathak (who share the film's standout scene with a bottle of Vaseline lotion) are simply fabulous, Konkana is disarmingly natural and Irrfan inevitably digs out a couple of precious moments. Ayesha and Jimmy don't have much to do, but can't be faulted. Ankur and Imaad have interesting potential. Shahana Goswami does well as the excited young girl. Boman Irani has a delightful cameo we're sorry to see end, Ravi Baswani shows a quiet, furious dignity as Jimmy's father, and Saroj Khan (Salim-Javed's crime boss ma) is quite powerful.
In one of the penultimate scenes, Irrfan Khan is slouching in an office with his Nokia on hands-free mode. A blonde leaves him coffee and moves into the background, where she casually changes the desk calendar from an almost date to a blood red one with an everyday nonchalance that makes us shiver. Suddenly, the camera goes off Irrfan and starts scrutinising the calendar. It slowly zooms in, background score building up to a dramatic crescendo as the calendar takes over the frame.
It is this constantly obvious feeling that mars Yun Hota To Kya Hota. Despite some neat framing, all you're left with is the repetitive use of time-lapse photography. Better luck next time, Naseersaab.
Rediff Rating: