Come September, there will be a lot of expectations at the box office. It's when Mithun Chakraborty's son Mimoh (Mahakshay) will make his debut with Jimmy. The release is two months away, yet the 22-year old already has six more in hand.
Mimoh must believe in himself very strongly. After all, he gave up his education to concentrate on his career in cinema. In conversation with Patcy N, the young star is all praise for his father and considers Hrithik Roshan his god. Excerpts:
"I skipped my HSC exams because I had to begin training for films. I did a 3-month crash course in acting and dancing at the New York film academy. I did a 6-month course with Roshan Tarneja, who was also my father's teacher at the film institute at Pune. I have also learnt the basics of Indian classical dance, horse riding, karate, judo and kickboxing.
I never wanted be an actor. But, after Hrithik Roshan became a sensation with Kaho Na….Pyaar Hai and every other star kid was getting into movies, I decided to give it a shot. I weighed 125 kilograms at the time though, so I had to first lose weight. I was scared to tell this to my dad, so I told my mom first. She told my father that I wanted to show him a dance. He said it was absolutely horrible, but later added that I had grace and rhythm. He said, 'If you are ready to work hard and dedicate your life to it, I will be there at every step.' I began training in June 2000. I had a strict diet plan and exercised for 4 hours a day. My dad felt I should be at least 21 before being launched.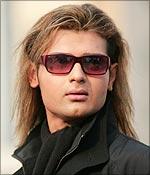 My father accompanied me to America for my acting course. He would cook food for me, clean my room. He is a complete father. He is very professional but, at the same time, very loving. He is very honest and blunt, and doesn't care if you feel bad. I always feel it is because of his harsh criticism that I have come this far. He is very balanced and knows when to draw the line. When we are shooting, he is strictly professional. If something goes wrong, he will tell it to my face. But, when we pack up and are at home, we are buddies. We talk about everything in life.
My dad would accompany me during my first shooting schedule. Now, he has left me on my own. He knows this is my own battle and I have to learn from my own mistakes.
While growing up, I was never stationed in one area. I lived in Mumbai between the ages of 1 and 10. I was then in Ooty for five years before moving to Coimbatore. I was never a spoilt child. My parents did not want me or my brothers and sister to go that way. I am proud that they never let me go overboard. In school, everyone looked at me with respect. That is one thing I have to deal with even today – the burden of being a star's child.
I am not afraid of comparisons, because they are inevitable. I have stopped running away from it and begun accepting it. I have taken it as a motivating tool to do better. I know I can never be better than my father -- he is a legend. I can never think of becoming even one-fourth the person he is. But if I can entertain people in my own way, I have done my job.
My dad has a huge fan following. You can imagine how it is, coming out of his shadow. He has won three National Awards. I don't even think about awards. He tells me to just concentrate on acting for the next 10 years, nothing else. I don't copy his style of acting. He wants me to learn from him and create my own.
My father is very concerned about me because this is a dangerous profession. Destinies change here every Friday. He has gone through the worst times – sleeping on footpaths, starving for days – and doesn't want anything to happen to me.
My mother, Yogeeta Bali, is simply superb. Nothing I say about her can be enough. She saw the limelight, but left everything for her family. I would love to see her play my onscreen mother, but she doesn't want anything other than her family.
My parents tell us stories about their experiences on the sets; they are fun to listen. My dad was a brat, and still is. Even today, he will come on sets and pick a fight with anyone just for fun. He jokes a lot. My mom had a hard time because her grandmother would make her skip 100 times daily in order to lose weight. At night, my mother would slip into the kitchen and eat whatever she wanted to.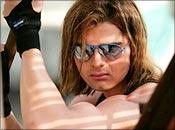 My younger brother Ushmey (Rimoh) wants to be a director. He makes his own short films with a handy cam. My youngest brother Namashi is a born actor. He knows everything about films. My sister Dishani is the darling of the house. Everything in our house revolves around her, as she is the youngest. She wants to be an actress, but I always tell her she should be a model, which irritates her.
I gave a lot of auditions before signing my first movie, He, The Only One. For both movies -- Jimmy and He, The Only One – the producer had come to my father to sign me, but Mithun insisted on my giving an audition as that was the procedure for any newcomer.
Jimmy is a thriller directed by Raj Sippy. My co-star is Pooja Singh, who currently stars in the Thums Up commercial with Akshay Kumar. He, The Only One is an action remake of the Telugu film Athanokkade, and has everything a newcomer needs to prove his talent. It is directed by Dhanraj Shekar.
When I first faced the camera, I was petrified. My legs were shaking. But my first shot was accepted in one take. My father gifted me an Omega watch, as promised. He does not star in any of my films because he feels I will be overpowered by the image he carries. He will work with me later when I have proved myself.
I already have friends in the industry. Salman Khan tells me I should stay with him whenever I come to Mumbai. Abhishek Bachchan says he is like my big brother and that I should spend time with him. This is all because of my father and the respect he has in the industry.
Hrithik is god to me. I have worshipped Aishwarya Rai and am now part of their family. I had a huge crush on Malaika Arora. I am very fond of Priyanka Chopra and would love to work with her some day. As for Hollywood, I would love to work with Lindsay Lohan.
My dream, however, is to share screen space with my father…"