Weaving comical plots around a handicap appears to be the latest mantra up for adoption by formula-loving filmmakers. Take Pyaare Mohan, Tom Dick and Harry and Chup Chup Ke as examples! Now, Golmaal joins the bandwagon.
Giving the devil his due, one has to admit the film keeps one amused from start to finish.
Here you have an elderly, blind husband and wife (Paresh Rawal and Sushmita Mukherjee) living in a carrot-coloured mansion. They await the arrival of their only grandson, Samir, settled in the US.
Meanwhile, four certified pranksters – Gopal, the bully (Ajay Devgan); Madhav, the procrastinator (Arshad Warsi); Laxman, the coward (Sharman Joshi); and Lucky, the babbling dummy (Tusshar Kapoor) – are thrown out of college by their shrieking Dean (Manoj Joshi) and hounded by the local moneylender, Vasooli (Mukesh Tiwari). The aged duo's bungalow appears to be the perfect hideout.
Laxman reluctantly agrees to play the US returned grandson, while Gopal becomes his voice. Madhav and Lucky are mute spectators to this con show. Confused? That's the idea. To add more mischief to the muddle, director Rohit Shetty introduces a romance angle with babe-in-neighbourhood, Nirali (Rimi Sen). One look at a towel-clad Nirali (embodying the cliché of a stereotypical, dim-witted, vanity personified, smiling, dancing Hindi film heroine) leaves the foursome hyperventilating.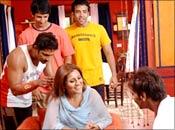 While the four are busy wooing the friendly neighbour simultaneously, a local hard-of-hearing goon, Babli Bhai (Sanjay Mishra — the actor was a target of Bunty and Babli's cons in the memorable Ramba ho sequence) sends off his dense henchmen (Vrajesh Hirjee, Anupam Shyam) to steal a hidden treasure chest in the bungalow.
Given that Neeraj Vora is behind the yarn, all trademark Vora-isms pop up in the screenplay. Opportunistic characters, bird-brained villains, pretty-looking jobless heroine, loads of pot shots on the film industry and lastly – no real story.
You'll hear lines like: "Tum wapas India kaise aa gaye? Woh maine Swades dekhi thi (What made you return? Oh, I saw Swades)" or Arshad Warsi spoofing Rani Mukerji in Black, with the film's theme playing in the background only to snap, "Yeh kya hum log Black Black khel rahe hain? (What's this? Are we playing a game of Black-Black?)" Ashutosh Gowariker and Sanjay Leela Bhansali might object but the audience, I noticed, was in splits.
Technically, Golmaal looks vibrant, perhaps too vibrant. The sets (art design by Narendra Rahurikar) scream in shades of bright orange and yellow. The cinematographer does a sleek job though, with the angles and clever shots. He smartly avoids close-ups of Devgan and Warsi, given that they hardly look like college goers anymore, numerous excuses of how frequently they flunked exams notwithstanding.
There aren't too many songs in Golmaal, other than the playful title number (by Vishal Shekhar) that keeps popping up every now and then. Except for a car racing sequence, which could have been shorter, Stephen Bernard's editing is taut. He doesn't let a gag linger on for too long and cuts to the next shot in a jiffy.
The actors evidently share a comfortable male bonding, which is translated on the big screen. Their comic timing is precise and on cue. Though Ajay Devgan is the leader of this brat pack, his body language is too uptight and fails to conjure spontaneity. Looking smug is second nature to him, but funny doesn't come easy. The unintentional chuckle he raises is only for his hideous wardrobe.
Arshad Warsi, in contrast, looks secure and chipper, mouthing silliness with carefree conviction. Tusshar Kapoor's character is a mute in every sense of the word. He doesn't register so much but gets to be the scene-stealer in one shot where he threatens to beat up a baddy while mouthing gibberish. It is Sharman Joshi who is the real star of the enterprise. If his scaredy-cat act went overboard in Rang De Basanti, it blends perfectly with the screwball flavour of Golmaal.
The actor is clued in, uninhibited and winsome.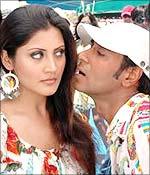 Paresh Rawal doesn't get to do any comedy. For once, he is just a traditional, nagging grandpa on whom the joke is. Needless to say, he is a good sport. Sushmita Mukherjee is impressive in her impersonation of Vyjanthimala in the Madhumati get up. One would definitely like to see more of her. Rimi Sen needs to do something revolutionary, unless she wants a CV full of blonde-haired pretty face roles batting fake eyelashes and shedding litres of glycerine.
What works for Golmaal is that Shetty keeps the gags coming. The fun quota is consistently maintained. Even if circumstances are not really humorous, the reactions they invoke are.
The humour isn't exactly family audience material, and is more likely to be lapped up by college-going folk. This is mainly because the plot revolves around four campus bums and the jokes are in keeping with their personalities. This probably explains the constant influx of *beep* words, crude innuendoes and suggestive body gestures.
But if you are willing to take no offence, Golmaal is one wacky, goofy, paisa vasool ride.
Rediff Rating: