C
hath par aakar gid baithe
Aur parnalon se khoon bahe
Kaun gira hai? Kaun kata hai?
Kismah dum hai? Kaun kahe?
Chakke chut gaye dushman ke
Omkara...
Dharti maange chutkara
Omkara...

Intense and profound are the keywords of filmmaker and composer Vishal Bharadwaj's latest offering, as his fascination with The Bard continues.
His earlier
Maqbool
was an adaptation of William Shakespeare's
Macbeth
. His newest,
Omkara
, is inspired from
Othello
.
Scheduled for a July 28 release,
Omkara
features an impressive line up of actors like Ajay Devgan, Saif Ali Khan, Viveik Oberoi, Kareena Kapoor, Bipasha Basu, Konkana Sen and Naseeruddin Shah.
Set against the rural heartland of Uttar Pradesh,
Omkara
's soundtrack reflects this flavour fittingly.
What makes the soundtrack of
Omkara
unique is that every song is a story or emotion, not a mere filler or excuse for running across mustard fields.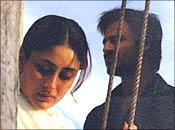 Sukhwinder Singh dramatically introduces you to the dread and glory of '
sabse bade ladiya
' (the greatest warrior)
Omkara
with such magnificence that you cannot help but fall hook, line and sinker for the thumping grandeur of this performance. You tend to play the song over and over again before moving onto the next track.
Even as you recover from the repeat value of the title track, the music director thrusts you with the velvety and mellifluous
O saathi re
. Sung by Bharadwaj himself along with Shreya Ghosal, this romantic duet does justice to Gulzar's poetry.
Trust the veteran lyricist to turn coarse into earthy.
Beedi
is a case in point. His colourful lyrics --
kitni sardi hai kisika lihaal layile, jaa padosi ke chulhe ki aag layile
-- engross you with their uninhibited, rustic mischief. Coupled with Vishal's flamboyance and Sunidhi Chauhan and Sukhwinder Singh's fiery rendition,
Beedi
lights the fire good and proper.
It is always a pleasure to notice Suresh Wadkar's name on the album back cover. The songster justifies his presence in the wake-up lullaby,
Jag ja
. Layered with tender flute, subtle piano and dreamy verse,
Jag ja
has the air of untainted innocence and loving indulgence.
Simmering and gaudy,
Namak
is Rekha Bharadwaj's teasing ode to love. Based on classical music, although a tad overdone in arrangement, this raunchy song is too loud for its own good.
Rahat Fateh Ali Khan waxes eloquent on deception through the metaphor of a woman's eyes. A smouldering creation,
Naina
articulates the theme of
Omkara
– jealousy and suspicion.
Burning heartache is echoed through the gloomy and forlorn
Laakad
. Rekha Bharadwaj is excellent again.
The album concludes on an expectedly dark note with the instrumental
The tragedy of Omkara
. Grim and intimidating, Bharadwaj sets the tone for a catastrophic finale.
To put it plainly,
Omkara
rocks!