When leading industrialist houses vie for the PSU (public sector unit) pie, it is a battle for profit. Principles are abandoned, manipulative tactics take over and inhabitants of the corporate world get down and dirty. It is these citizens that Madhur Bhandarkar's Corporate takes an unsettling look at.
Corporate does not involve you immediately. It is alien territory, for some, and you have to pay keen attention to what its protagonists are talking about. Not only do they mean business, they talk business too. Unless you are the kind who religiously reads financial news, follows the stock markets or studies economics, it will take some time before you grasp the lingo.
The plot is widely laid out. Once the technicality of the subject is cottoned on, there are a lot of interlinked issues Bhandarkar rakes up -- like the nexus between greedy politicians and industrialists, the impact of multinational players in the market, shady workings of this trade and questionable ethics.
Over the years, with theme-oriented films like Chandni Bar, Satta and Page 3, Bhandarkar has developed a characteristic style. He picks a section of society, then hunts down everything that is directly or indirectly responsible for its supposed deterioration.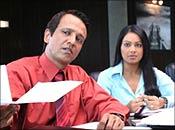 Here, corporate rivalry between Vinay Sehgal (Rajat Kapoor) and Dharmesh Marwah (Raj Babbar), Managing Directors of their respective companies -- Sehgal Group of Industries and Marwah International Private Limited -- forms the crux of the plot.
Marwah is a fanatically religious, superstitious, family guy who wears a different gemstone every day going by the daily forecasts of his spiritual guru. Sehgal is a doughnut-eating, gym-going, stylish guy with a soft spot for foreign businessmen and secret meetings with tarts.
Despite several failed attempts to do business overseas, Sehgal, on his wife's (Achint Kaur) behest, asks brother-in-law Ritesh (Kay Kay Menon) to come aboard. Girlfriend Nishigandha Dasgupta (Bipasha Basu), also a top executive in Sehgal's organisation, is only too happy to have him as a colleague. Nishi is an award-winning go-getter who sports Allen Solly suits and designer watches, and casually resorts to deceitful tactics if necessary. Bribing, stealing and spying are all part of a day's work for her.
But, since Corporate cannot be only about comfortably corrupt businessmen, it introduces a sense of till-now-misplaced conscience in Nishi's character. When Sehgal goes ahead with a deal adverse to public interests, Nishi develops cold feet.
With the ongoing debate on whether aerated drinks, reportedly containing pesticides, should be banned, Corporate is relevant. There are times when it digresses from the core issue to make unnecessary digs at a popular coffee-loving filmmaker's mannerisms.
Unlike Page 3, Bhandarkar mostly refrains from employing sex-related shock value in Corporate, except on a couple of occasions. Again, unlike Page 3, the director enhances the film's production values, giving it an elegant look, if not entirely glossy. And, just like Page 3, where drivers discussed the debauched lifestyles of their bosses, Corporate has a pair of office assistants and bodyguards taking pot shots at their lords and their mistresses.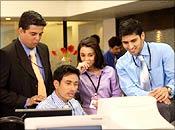 Music is not imperative to the narrative here. Even so, Shamir Tandon's melodies nonchalantly play in the background without disrupting the pace.
A film like Corporate demands strong presence to hold the viewer by the collar. The cast emerges powerful enough to do the needful. Bipasha is consistently impressive, conveying an array of emotions ranging from tough and confident, to feminine, vulnerable and tender. She fits well into her suit and the skin of her character.
One is accustomed to seeing Kay Kay Menon in intense or chilled-out avatars. Here, he is rather passive, to the extent of being a spineless loser. And there are times when you just think of him as confused.
Rajat Kapoor's suave dynamism and cool demeanour makes him the perfect candidate to play a Gucci-clad rascal. And Raj Babbar suitably underplays the eccentric nature of his Marwah. As the thirty party politician who reaches out to every hand under the table, Gulabrao (Vinay Apte) is hilarious and believable.
Finally, there is a proposed romantic track between Minissha Lamba and Sameer Dattani, which never takes off beyond an invitation for coffee. Except for making pretty props, there is no need for these bright younglings in the movie.
With its urban premise, intricate dialogue and stark realism, Corporate might not be a box office smash. It's still a smart, gripping, honest film. And that should count for something.
Rediff Rating: