Kabul Express, for director Kabir Khan, is more like his diary of experiences than a Bollywood masala movie. Khan, who has made several documentaries in Afghanistan over the years, simply jotted down his experiences to come up with his first script. He sold it to John Abraham and Arshad Warsi, who immediately signed on. Yash Raj Films then came into the picture, turning it into one of the much-awaited films of the year.
The 35-year old director talks to Ronjita Kulkarni about Kabul Express, his pretty wife Mini Mathur -- who hosts the popular Indian Idol shows -- and his interesting documentaries, one of which is on slain journalist Daniel Pearl. Excerpts:
You began your film career as a documentary filmmaker.
Yes, I shot my first documentary for The Discovery Channel when I was 24. It was called Beyond the Himalayas. We were on the road for three months, travelling to Central Asia, China, Tibet, Mongolia, Nepal, etc. It was directed by Gautam Ghosh.
The first documentary I directed was The Forgotten Army, based on Subhas Chandra Bose's Indian National Army. Later, I did one called The Taliban Years and Beyond, based on the Taliban years in Afghanistan. I went there in November 2001, when the Taliban collapsed. We spent a couple of months there, trying to recreate the era. I also did a film called The Titanic Sinks in Kabul.
Kabul Express is loosely based on the experiences my friend Rajan Kapoor and I shared in Kabul.
So John plays you, and Arshad plays Rajan?
When I wrote the script, I did picture an actor playing me and another playing Rajan. But, as I wrote it, the characters merged. So John is not just me, and Arshad is not just Rajan. Both of us have certain quirks. It was clear when I wrote the script that, after casting, I would rewrite and adapt it to the actors. I wanted the characters to be natural. I think that comes from my background in documentary filmmaking. John's character is close to what he is in real life.
What is Kabul Express about?
It is set in November 2001, Kabul. Just after 9/11, the Taliban collapsed and journalists were there to capture the event. John and Arshad, who play journalists, also land up there. There are three other characters -- a Pakistani Taliban, an Afghan driver and an American photo journalist.
John and Arshad were easy to cast because they play normal, city-slicker journalists. Casting the rest of the characters was tough. Every actor was cast according to the character's nationality -- so the Afghan driver is actually an Afghan…The film encapsulates a period of 36 hours, and the adventures these five people go through in Kabul.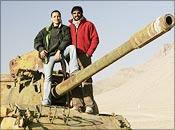 Why did you pick Kabul?
I have been to Afghanistan many times, even before the Taliban collapsed. I was fascinated by the country. It could be because my ancestors come from the Afghan borders. I am a Pathan. As a child, I read a book called Roots, about his man who traces his own history. I wanted to know where I came from, and managed to go back seven generations too. This has all been documented.
Besides, I am an avid trekker. I did a lot of trekking in Ladakh, and that generated an interest in Tibet and Afghanistan because of the similar terrain.
Apparently, you were threatened by the Taliban during the Kabul shoot.
Yes. But we had expected that. If you do anything high profile in Afghanistan, the threats are bound to come. And there is nothing more high profile there than shooting a Hindi feature film. But the ferocity with which it came unnerved people. They knew our movements, and the threats were repetitive. I am sure they had moles around our hotels. The threats were specific – they mentioned John, Arshad, Rajan and my name. That was a tense moment.
After these incidents, the Afghanistan government gave us 60 armed guards. They felt that if we returned to India, it would be a defeat for Afghanistan. At the end of the day, I had to make the call. I did a thorough investigation before making that decision -- about who exactly was giving the threats, how bad they were, their firepower, etc. I took the opinion of the Indian Embassy very seriously because, in a way, they were responsible for our safety.
The threats were credible but, in the light of the firepower we had been given, we were safe. Once I took the call, Yash Raj stood by me.
Ramankutty Maniyappan was killed while you were in Kabul.
Yes. The Taliban has collapsed, but I think these recent killings indicate a resurgence. They say the resurgence started in September, the month we landed there. Ramankutty's death started off the nervousness, but more in India than in Kabul. When you're there, it's just another addition to the daily toll. It isn't just Indians who are killed there. There are lots of others who get kidnapped and killed. When an Indian gets killed, people take notice because of the warm relations the Afghan government shares with India.
How did you convince producer Aditya Chopra to film in Kabul?
He knew about my experiences in Afghanistan. He saw my credentials and loved the script. I signed John and Arshad much before Adi came into the picture. If he had come into the picture first, I would have had a selection of whoever I wanted.
What was the toughest part of the shoot?
The sheer cold! It was minus 15 degrees.The cold mountain air can rip you apart. We needed to be there before sunrise. It was very tough for John, also because he's vegetarian. He probably didn't eat well enough, so he got a viral infection. He had to get back to Mumbai, and was hospitalised.
There are no songs in the film.
Yes, but there will be a music video.
What did your wife Mini Mathur think of the film?
She loved it! But then, she's been part of the entire process. I can't talk about the film, but she felt that the voiceover in the trailer should have been in Hindi. I let it stay in English because, usually, trailers glorify the film and make you go 'Wow', while the films turn out to be bland. My trailer is not the best of my film, it is what my film is about. I left it in English because large parts of the film are in English.
Did you give her any feedback during Indian Idol?
We give each other feedback constantly. We met while shooting -- I was a freelance cameraman, she was a freelance presenter. We usually sit together to decide what shows to take up. Mini has decided she will never do TV serials, and I stand by that. The stuff that is dealt with on TV is not something she can ever relate to.
You have recently made a film on Daniel Pearl...
I have contributed to a film on him, not made the entire movie. I interviewed Marian Pearl exclusively, and got her story. I also spoke to his parents and associates. Large portions of the film were shot in Pakistan by someone else. It was put together by Rajan Kapoor.