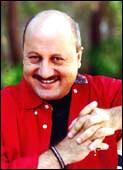 More than 15 years after Kamal Haasan played a dwarf in Appu Raja, Anupam Kher plays one as well in debutant director Shirish Kunder's Jaan-e-Man, starring Salman Khan, Akshay Kumar and Preity Zinta.
At the time when Haasan had played the unusual hero, there was a great deal of speculation as to how he managed to look a quarter of his size on screen. The technique employed is still a mystery. It was rumoured that the actor stood in a trench to look short.
"Now, we're much more advanced," Kher says. "Appu Raja was made so many years ago. The  packaging, presentation and projection of the concept of a dwarf is very different today. I've already shot for Jaan-e-Maan. Believe me, it's going to be a path-breaking role."
His dwarf's role is actually a first for Hindi cinema -- since Appu Raja was dubbed from the Tamil version.
After Maine Gandhi Ko Nahin Mara, where Kher plays a man stricken with Alzheimer's, the actor is on the lookout for more challenging roles. 
He is also putting together his next directorial venture, after Om Jai Jagadish (2002). "It's a romantic comedy inspired by the torrential monsoon deluge in Mumbai in July. It's just an idea now. I'll get down to writing it down soon."
Yash Raj Films will, in all probability, will produce Kher's directorial venture. "But it depends on how the script shapes up," he concludes.