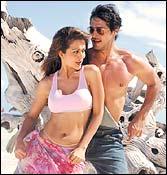 David Fincher's ingenious Fight Club (1999), starring Brad Pitt and Edward Norton, is one of my favourite films.
Unfortunately, I cannot say that for the shamelessly copied Hindi version by Vikram Chopra and Sohail Khan.
The desi version is about four friends -- Vicky (Zayed Khan), Karan (Dino Morea), Somil (Riteish Deshmukh) and Diku (Aashish Choudhary) – who start a 'fight club' to provide a platform to people who want to settle scores with their enemies.
The club follows four rules of fighting and members have to follow these rules.
After watching Vikram Chopra's film, I came up with a list of four handy rules for my fellow viewers. Secretly, I am hoping that Chopra reads them too before making his next film.
Rule No 1: Any director who has shamelessly copied a Hollywood film, and is too lazy to even change the title, is bound to disappoint.
Rule No 2: Do not watch a film for Sohail Khan. Especially if he has produced it.
Rule No 3: A multi-star cast film in Bollywood does not guarantee a good film. The overcrowded posters are always tempting yet deceptive.
Rule No 4:  Action films don't work for pretty boys like Zayed Khan, Riteish Deshmukh and Dino Morea.
If the first half of the film is based on the Fight Club concept, the second half deviates too much. So much masala -- including a complex revenge plot -- is added that you almost think you have accidentally walked back to the wrong theatre after the interval.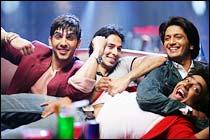 Perhaps, after shooting the first half of the film, the director lost the remaining pages of the copied script.
Some performances are good though. Suniel Shetty and Rahul Dev are fine. Zayed doesn't need to act (the killer looks usually do the trick). Dino looks old, but manages to act.
When Amrita Arora does a dance number, you can't help but wonder why the director signed up the wrong sister. Malaika Arora is truly in a different league.
Diya Mirza is a natural dancer and pleasant to watch. Neha Dhupia hardly has a role.
With the multiplex phenomenon -- and Bollywood films releasing almost every week -- the shelf-life of Hindi films has reduced.
When I spoke to some filmgoers outside the theatre, a few of them said they decided to watch Fight Club on the basis of the star cast.
But this film, despite its multi-star cast, might not do well at all. Actors can do little with a bad script.
Some action shots are well done, but overall the film sucks.