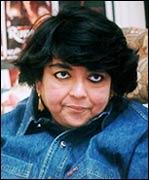 She may not have won any awards herself, but her actresses certainly have. National Awards, no less. Whether it is Dimple Kapadia for Rudaali or Raveena Tandon for Daman, it is director Kalpana Lajme who creates the magic. Surprisingly, when Patcy N met with her, the director said she was nervous. Her mouth was too dry for her to speak. We did manage to get a lot out of her on her forthcoming movie Chingaari though.
Sush: Prostitution is like any job
Why did you change the name from The Prostitute and Postman to Chingaari?
My distributors felt the earlier names wouldn't work in the interiors. An English title could have isolated the audience. I wanted villages to celebrate it like we do in the cities. I decided on the title only after editing the film.
| | |
| --- | --- |
| | MOre on rediff.com! |
| | |
Why Chingaari?
It works on several levels. Chingaari is Bhuvan Panda, the character Mithunda is playing. He is supposed to be a moral guardian, the priest of that village, but he misuses his power. That kind of spark can burst into flame to consume a whole era with hatred and superstition.
Secondly, Chingaari is the young innocent postman Chandan Mishra, played by Anuuj Saawhney who comes to the village for his first posting. He is not a crusader. He has come to the village for work. Through his innocent eyes, the audience will see the exploitation of not only the poor but also our protagonist -- the prostitute.
Thirdly, and most importantly, the Chingaari is Sushmita, who plays Basanti, the humiliated and ravaged prostitute. She thinks her life will never change, but it does when she falls in love with the postman. And she can't even tell him she loves him because he is too good for her. The three main characters -- the prostitute, priest and postman are all chingaaris in the film.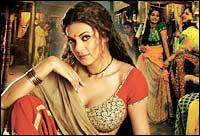 What kind of social message did you want to convey?
Don't fan the spark because it will become a fire. That's what I wanted to say. Also, with the weapon of education and literacy, one can try and stop this chingaari. Also, prostitution can be a choice, and not forced.
Why is it a different story?
It is an unusual triangle of unrequited love, as both Chandan and Basanti can't confess that they are in love with each other. Even Bhuvan Panda is in love with Basanti but, at the same time, he hates her because she is a prostitute. It is not a traditional love story.
Where is the movie set?
It is based in the Northern belt, but I have not specified which state. I have given different dialects and styles of speaking to each character. For Mithunda, pure Sanskrit. Sushmita speaks Bhojpuri -- that too, in the way they speak in prostitute quarters. I have given Anuuj's character pure aristocratic Hindi. Ila speaks in Awadhi. Other common people speak in Bhojpuri. In this small village called Rangpur, there are people who have come from different villages. I have also used Hindi so that people in Maharashtra and down South can understand the movie.
Did you think Sushmita was the right choice?
I like to cast against the trend. When I took Raveena Tandon for Daman, people said she was too glamorous after the hit song Tu cheez badi hai mast mast. But she gave a sterling performance and won a National Award. In Dimple Kapadia's case, when I took her for Rudaali, people told me she was too gorgeous. She too went on to win a National Award. It is interesting to work with commercial film actors who have not been tapped. It becomes a challenge for me. If I take a known, great actress like Shabana Azmi, what will I discover?
I am not a director who writes a script for an actor. I write my screenplay keeping the character in mind.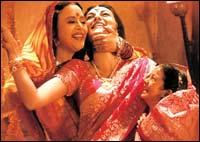 How do you go about choosing your actors?
We have to choose our actors and financers simultaneously. It is difficult today, not only for me but for other directors, to get a good star cast. When I finished my script, I didn't have the money to take three stars. And even if you think the postman and priest are important characters, it is Basanti's film after all. So, I thought I would take a female star who was a good actress -- a difficult combination. Kareena gave such a fantastic performance in Chameli that I couldn't ask her again.
I had to choose who the star was -- female or male. The generation of performers you have today can walk on the ramp very well, but they can't perform. And I was told by everybody that Sushmita is very difficult to get because she chooses only three films a year. The more people discouraged me, the more I thought I should get her. I called, fixed an appointment, narrated the story and in one hour, even before I could finish, she agreed.
When she said yes, I told her I didn't have a producer. She said she would wait. I met her in January 2004 and she gave me dates for January 2005. That was gracious of her.
What is your relation with Sushmita like?
It's different. She is old enough to be my daughter as she is 29 and I am 51, but we had a spiritual bonding. There is a very philosophical side to her. I always want to know more about spirituality, so that became a common thing between us. I had spent nine months searching for a producer and was embarrassed as I had not even given her a signing amount. I was scared that she would give her dates to someone else, so I had a fixed deposit of Rs 2 lakh, which I broke. She didn't even take that signing amount. She stuck to her word. On January 15, 2005, she was ready for the shoot.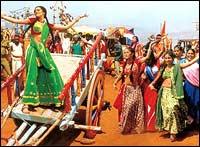 What kind of actor is Anuuj Saawhney?
I did a three-month workshop with Anuuj. He is a very committed person. He is raw in comparison to the veterans though. Mithunda took him under his wing and made him feel natural. His performance is so natural in the film that you sometimes think he isn't acting. That is also because Sushmita and Mithunda didn't steal scenes. When they were with him, they cooperated and made him feel comfortable. Taking Anuuj helped me a lot as he didn't have any baggage with him and merged well.
What about Mithunda?
He is powerful in the film. If the antagonist was weak, I think the movie would have not come out so well. He doesn't have many dialogues, but his presence is captured everywhere. He has put his heart and soul in it. You can feel the presence of a man's terror. I am not comparing myself to (Francis Ford) Coppola at all. Marlon Brando was the terror in The Godfather. Similarly, Mithunda is, too. We haven't shown him do anything physically even once, but the terror that he controls the whole village with comes in. Without speaking a word, he sends a chill down your spine.
How come Chingaari doesn't have music by Bhupen Hazarika, who normally does the music for your films?
It is Bhupen Hazarika's story, which he had written 15 years ago. He was involved in politics. I think it is a big mistake, but he doesn't feel that way. He lost an election and, with it, his heart. He was depressed for a few months. He felt that people he had cared and worked for all his life had rejected him by not voting for him. It came like a personal rejection from his homeland, which is why he was too depressed and felt he wouldn't be able to do justice to the film. I respect only two music composers -- A R Rahman and Bhupen Hazarika. So, when Dada said no, I was in trouble because our budget was too small to afford Rahman. Aadesh Shrivastav said he would do it for me, free.