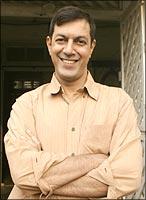 Even though Rajat Kapoor's directorial debut, Raghu Romeo, didn't do as well as he'd hoped, it was critically acclaimed. His latest, Mixed Doubles, promises to be as good. It stars Konkana Sen Sharma, Ranvir Shourie, Koel Purie and Kapoor himself.

The director chats with Patcy N about his latest attempt and his Bollywood innings.
Mixed Doubles is worth a watch
What is Mixed Doubles about?
It is a romantic comedy. Sunil (Ranvir) and Malti (Konkona) have been married for 10 years. It's a double income, single child situation. They love each other, but the marriage has lost its spark. Sunil gets the idea of swapping partners, so he approaches another couple, played by Koel and myself. Normally, films end with marriage, but this one starts ten years after the ceremony.
| | |
| --- | --- |
| | More on rediff.com! |
| | |
Is it inspired by Hrishikesh Mukherjee's Rang Birangi?
No. When was this film made? I don't even know about it. When you say 'inspired by a film,' it means it is a copy. That's not true in this case. I have not been inspired by any film.
How did you come up with the concept?
I was at Zurich airport and my flight was delayed. I started writing on a napkin and finished my story by filling up both sides. It was the germ of an idea. I returned to India and wrote the script.
Why did you decide to make this story?
I have 11 scripts with me. A producer asked me if I had a script that fit his budget. I gave him three story ideas, and he selected this.
Raghu Romeo had lesser-known stars like Vijay Raaz and Maria Goretti. How did you manage to get Konkana and Naseeruddin Shah?
Naseer has a very short role. He was needed to shoot for just a day. Konkana is a wonderful actress. She had to play an older character. I auditioned her, and she liked the role. She is among the few actors who selects films according to the script, not the banner. Yes, Mixed Doubles has known actors, but this is a coincidence. Besides, Raghu Romeo was a different kind of film. It required dancers and waiters, so I needed lesser-known actors.
Why didn't you act in your previous film?
I didn't have a role in it. I didn't want to act in Mixed Doubles either, but I didn't get the actors I wanted. Actors here are too scared of their image.
Why are your films so different from other Bollywood movies?
I want my films to be different. I don't want to do run-of-the-mill stories.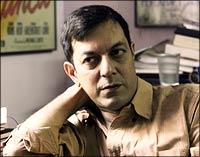 How did you get involved with cinema?
I joined FTII (Film and Television Institute of India) in 1985 to learn filmmaking. After that, I worked as an apprentice for directors Mani Kaul and Kumar Shahani for three years. They were masters, but their films were never released in this country. Then, for about ten years, I had no work. I then made two short films called Tarana and Hypnothesis, both of which won National Awards.
I also did a feature film called Private Detective, which nobody saw. It had Naseer and Kashmir Shah. I was also doing theatre at the time, along with odd jobs. For funds, I even wrote film reviews for a bit. In 1999, my acting career took off although I didn't choose it. I did an advertisement that worked and offers began coming in. I am very grateful for that because it took care of funds. I began saving money. In about 4-5 years, I had Rs 15 lakhs to start Raghu Romeo. NSFD gave half the amount -- Rs 40 lakh -- and I collect the rest from friends, as a loan. Raghu Romeo cost around Rs 80 lakhs. Unfortunately, the movie bombed and I went into a depression. I am still repaying that money. I still have to give Rs 8 lakh to my friends. But the important thing is, because I made Raghu Romeo, I got to do Mixed Doubles.
Why do such films fail at the box office?
One, because people will not buy tickets and go to watch Vijay Raaj. They would rather watch it on TV or, at the most, hire a VCD for Rs 30. People say these kinds movies work in multiplexes, but where are they given a chance? The big budget movies take prime slots. We get the 11am or 3 pm slots that no one can attend. I am not complaining. I am just telling you how things are.
How did you manage to finance Mixed Doubles?
Sunil Doshi, the producer, came to me. I had met him at the Locarno Film Festival when I had gone with Raghu Romeo. He told me he had some money, adding that I could take it if I could make a film within that amount.
It was shot in 23 days. For me, to make a film means to make them small. By that, I mean smaller budgets. I always tell people who are trying to make their first film that you should make the best film possible. No compromises. Make it on 35mm but find innovative ways of dealing with the money because there is so much wastage in mainstream cinema. I can't imagine how a film can cost 8 or 10 crore.
Would you like to do big budget movies?
I would like to, but not mainstream films. It would have to be an independent film where I have creative control. I have a few scripts, which require a lot of finance because of elaborate sets.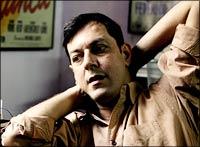 What is your next project as a director?
My next movie is Mithya, meaning lie. It's about a very bad actor who is looking for work. When he gets it, it's about how involved he gets. I have not decided on the cast yet. It could be Saif Ali Khan if he agrees. It could also be Ranvir Shourie or Arshad Warsi. I wrote it eight years ago and wanted Naseer in it, but couldn't collect the money. We begin shooting in July or August. I have waited six years to make this film, so I am very excited about it.
What about your acting assignments?
I am doing Cooperate with Madhur Bhandarkar. I have a very good role there, that of an industrialist with shades of grey. I am also doing a Bengali film.
Why don't you give away your scripts to other producers and directors who would like to work on them?
You think I haven't tried to in the past eight years? I met all the producers. It's easy to say. But, for six years, I sat at meetings with everybody from Shah Rukh Khan to Aamir Khan to Subhash Ghai and even Aditya Chopra. Nobody is interested. All they do is talk.
The only thing I have pursued in my life is filmmaking. Acting just happened and I took it gladly. Tomorrow, if someone says they want my script, I will give it gladly give it to them for an amount. But I am not going to waste my time pursuing people to take it. People are not valued in this industry. Rithwik Ghatak made 7 films that nobody saw. When he died, people started calling him a great filmmaker. Here, they wait for a person to die, and I am not ready for that.
Photographs: Jewella C Miranda