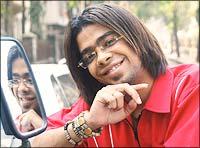 Not so long ago, Naresh Iyer was just one among the 25,000 aspirants queuing up for Channel V's talent hunt show, Super Singer.
Now, thousands are rocking to his voice, thanks to Roobaroo and Paathshala, two of the three songs from the hit movie Rang De Basanti that he has lent his voice to.
The 25-year-old from Matunga in Mumbai sang his way to the 25 final Super Singer contestants. And when he stood face to face with ace music composer A R Rahman and popular singer Adnan Sami -- the judges for the show – he had no idea that his future was about to be decided.
 Special: All about Rang De Basanti

| | |
| --- | --- |
| | More on rediff.com! |
| | |
Rahman told Naresh that there was good and bad news for him. The bad news was that he was out of the Super Singer contest.
The good news, Naresh narrates with a glitter in his eyes, was that Rahman promised to call him for a recording in Chennai.
Soon after the show the young singer packed his bags and headed for Chennai, hoping to start his singing career -- a far cry from his earlier plans of becoming a chartered accountant.
Naresh was not exactly a newcomer to music. He had sung in almost 500 stage shows with a theatre group called Rangaat Productions. He had also trained for two years under singers Chintamani Gore and Sushila Mani.
In fact his first stint as a playback singer was in a Tamil movie, Anbe Aaruyire.
When he started recording for Rang De…Naresh had no clue he was singing for an Aamir Khan movie.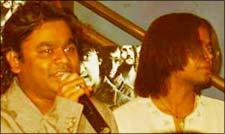 And he started on the lilting Roobaroo at 4:30 am, after nearly 12 hours in the recording studio. But by 7 am, the song was complete.
"To work with Rahman is a dream come true," Naresh says. "He is more like a friend in the studio. He is not bossy at all. I was nervous when I went to meet him for the first time but when I started working for him, I realised he was cool!"
Wasn't singing at that hour a strain? "If you're working for Rahman, it's no big deal if you sacrifice your sleep," is Naresh's reply.
"When Rahman comes to recording studio, he does not start with work immediately," Naresh continues about the man who many believe is the father of the modern Bollywood sound. "First, he chats with you to make you comfortable. The tune is given to you, and then you rehearse. Only when you start singing, Rahman steps in [with his suggestions]. Later, you realise that the [completed] song sounds very different from what you had rehearsed!"
Meeting Aamir Khan in the studio was another dream come true for Naresh.
The young singer is all praise for director Rakeysh Omprakash Mehra, who was instrumental in giving him a break, and Rang De's lyricist, advertising honcho Prasoon Joshi.
"The lyrics were funky and he [Joshi] would encourage me all the time," Naresh says. "Sometimes, he would go into the recording studio and start singing. Paathshala had few more stanzas, which he used to sing all the time. It was total fun working each one of the Rang De team," the singer adds.
The Bollywood newcomer says he does not prepare for a song specially. When he sang Tu bin bataye, he did learn the tune beforehand, but in true Rahman style, all changes and improvisations were done in flight – in the studio.
He says Tu bin bataye took him a long time to muster because it is a slow song and he had to actually control himself, especially since all the other songs were very lively.
Naresh says he feels there is nothing like a tough or easy song.
"Every singer has a natural flair [for a particular kind of song] but certain songs need to be worked upon. Tu bin is also my favourite song because it has a soothing effect on you. It relaxes you," he says.
Already showing the traits of a professional, he refuses to divulge details about what he was paid for Rang De.
"If you get a chance to work with A R Rahman people will also do it free of cost," he asserts.
His upcoming project is a Tamil movie called Godfather.