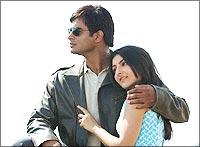 After the lukewarm response to his last film Ramji Londonwaley, Madhavan has hit the bull's eye with his cameo as Flight Lieutenant Ajay Rathod in Rakeysh Omprakash Mehra's Rang De Basanti.
So, when Priyanka Jain caught up with the southern star, she asked him if he had ever been inside a fighter aircraft. His reply: "I enjoy flying remote control helicopters!"
While the actor skirted the MiG controversy -- saying, "The movie is a superhit; what's the use of talking about it (the controversy)?" -- he spoke about the movie, vegeterianism and his forthcoming projects. Excerpts:
An actor who researches on the Net
| | |
| --- | --- |
| | More on rediff.com! |
| | |
Your role in Rang De Basanti is pretty small.

The film revolves around my role. (It's) About how DJ (Aamir Khan), Karan, Sukhi and Aslam -- the good-for-nothing friends of my girlfriend (Soha Ali Khan) -- find a purpose in life, about how Rathod's death forces them to think, act and bring about a change, start a revolution.

Apart from that, I always wanted to work with Aamir Khan. Hence, when I got a chance, I grabbed it.

What was the shooting like?

I enjoyed the shooting and working with the entire cast, especially Aamir. Working with Soha Ali Khan was also a delight.

Special: All about Rang De Basanti

What was so special about your character?

I love playing roles in uniform because it gives me a sense of pride of being in an organisation that believes in patriotism.

In one of my earlier serials Sea Hawks, I was playing a coast guard officer fighting smugglers. The character of Preet became extremely popular as he could mimic any character and he was this mischievous guy who would keep fooling around. I used to draw references from my experience as an NCC cadet in the army artillery wing.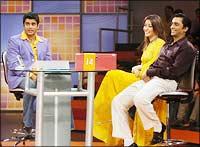 What happened to
Deal Ya No Deal
(
the television game show which he recently quit
)?
I left it because they wanted more than seven days in a month and I did not have time at all. I am doing three movies right now. I cannot work my dates over a spreading schedule. In television the schedules keep changing and hence it gets difficult for me to keep my dates for movie shootings. I enjoyed the show while it lasted.
You have recently featured in an advertisement on going vegetarian.
In the ad, I am featured crouched in a small wire cage with a look of despair on my face -- to illustrate the misery of animals confined in factory farms and at butcher shops. Shot by ace photographer Atul Kasbekar, the ad encourages people to 'Liberate your diet: Go veg.'
By no means was I comfortable during the photoshoot crouched in that small cage. But what were a few fleeting moments of discomfort for me, as opposed to the suffering that animals raised for food are forced to endure from the time they are born?
We've all seen chickens crammed in cages at local butcher shops, but nobody stops to think about what trauma the animals are going through, never getting to run, play or feel the grass beneath their feet.
It's simple -- I love animals, so I don't eat them.
What's your next film?
I am currently working on a Tamil movie Thambi with actress Pooja, which is slated to release on February 17.
I play the challenging role of Thambi -- a person who is a fusion of Mahatma Gandhi and Subhas Chandra Bose. It's an unusual film, against violence, which the audience is sure to enjoy.
Dr J Murli Manohar, the London-based producer of Ramji Londonwaley, is producing the film.
Then there is Sarkar, which has nothing to do with Ram Gopal Varma's hindi movie. Also there is a Hindi movie at the end of this year.
You have been unlucky in Bollywood.
I just need a solo hero superhit to click in Bollywood. At present I am doing one Hindi movie a year. I have enjoyed working with Diya Mirza, Samita (Bangargi); I really get along well with Namrata (Shirodkar). On screen, I love watching Rani Mukerji.