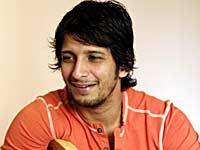 Sharman Joshi's character Sukhi in Rang De Basanti had one worry -- how to woo a woman. But in real life, the young man is happily married. And he is the proud father of a three-month-old baby.

"From cleaning her up to putting her to sleep, I do it all," Joshi says. "Taking care of her, especially at night, is my duty. We take her out for a drive in the middle of the night if she doesn't sleep. I am on full time baby-sitting duty these days," he adds, laughing.
Special: All about Rang De Basanti
| | |
| --- | --- |
| | More on rediff.com! |
| | |
Joshi made a noteworthy debut as Karsan in Godmother (1999), but moved on to B-grade movies like Style and Xcuse Me. Recently, he even featured in the disastrous Shaadi No 1.

But his performance in Rakeysh Omprakash Mehra's new film has had everyone sitting up and paying attention. Priyanka Jain talks to Joshi about his career, his new film, and more. Excerpts:

So, tell us about Rang De Basanti.

It is my best performance after Godmother. The subject has been handled with extreme maturity. What I like the best about the movie is the script, it's so well written that we feel proud when we watch the film.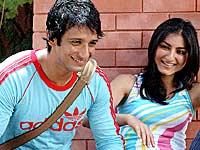 How did you prepare for your role?

Sukhi is jovial and wears his heart on his sleeve. I am an instinctive actor and prepare along with the script. However, for this role, I had to learn the Hariyanvi accent, as I play a Jat. I asked my Jat friends to read my lines and we recorded it. I rehearsed while listening to that. Then I did some fine-tuning to make it sound more understandable, while giving it a regional flavour.
How did you get into acting?

My father Arvind Joshi does Gujarati theatre. He was a director, and had his own production house. Now, he writes plays. I was in the last year of college at Narsee Monjee College, Mumbai, when I made my acting debut in a play called Bea Lal Na Raja [Two Kings Of Hearts] with my father.

Your sister Mansi Joshi Roy was the face of the television serial Kkusum until recently.

Yes, my sister and her husband Rohit Roy are doing pretty well in the television world. Mansi is my best friend. She and my father-in-law [Bollywood veteran] Prem Chopra are critical of my work, and their feedback helps me improve.
What are your hobbies?

I enjoy playing cricket and badminton. I tried to learn the tabla and the violin but gave up mid-way. But I enjoy listening to [tabla maestro Ustad] Zakir Hussain. His jugalbandis [duets with other instruments] are my favourite.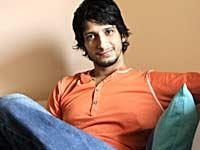 You have just shifted to Andheri [a western suburb of Mumbai].

Yes, quite recently. But my wife Prerana has stayed in Bandra [another western suburb] all her life, so we want to shift there some time later when I save up enough (winks).
What do you fear most?

Merry go-rounds!
I hate anything that goes circular on a horizontal plane. When we were dating, once Prerana wanted me to accompany her on a merry go-round at Essel World. I did it somehow. But I remained sick for the rest of the day. Later, I confided in her about my phobia of merry go-rounds.
What roles would you love to play?

I love to do roles that deal with death -- where my character dies at the end or is suffering from an ailment. While playing such a character you realise that there are so many things that we fuss about, that really don't matter.
One is forced to do an in-depth study of oneself. I once played such a character in a Gujarati play called Hasta Ramta Saav Achanak [Suddenly While Laughing And Playing].
Forthcoming films?
I'm working on director Rohit Shetty's Golmaal. The film will release in August. It also stars Ajay Devgan, Arshad Warsi, Tusshar Kapoor, Paresh Rawal and Rimmi Sen.
I play this studious college kid who wears kurtas. It's a fun film about four boys -- how my character gets influenced by them and gets into trouble.
From Godmother to Rang De Basanti. How has the journey been?

A lot of patience, learning and maturity. I think it has helped me become a better actor and person. Main Sukhi hoon [I am happy]!
Photographs: Jewella C Miranda