Siddharth may have bowled everyone over with his performance in Rang De Basanti but, when he moved to Chennai from Mumbai after an MBA from the S P Jain Institute of Management, acting was not part of his plans. It was thanks to his mentors, cinematographer P C Sreeram and his brother Jayendra, that he got a prized assignment -- that of assisting Mani Ratnam in Kannathil Muthamittal.
"I met Mani Ratnam for an interview and landed my first job in cinema. I am proud to be associated with a film as special as Kannathil Muthamittal. I saw and learnt the science of filmmaking from very close quarters," he told rediff.com years ago.
It was during that assignment that writer Sujatha and his wife saw him and recommended his name to Shankar who was casting for his film, Boys. Siddharth was auditioned, and signed on.
| | |
| --- | --- |
| | More on rediff.com! |
| | |
Though Boys did not set the Tamil Nadu box office on fire, it became a rage in Andhra Pardesh. Siddharth moved from Chennai to Hyderabad to concentrate on Telugu films. The biggest hit of his career was Nuvvostanante Nenoddantana, directed by Prabhu Deva.

Now, with Rang De Basanti becoming a big hit, Siddharth may soon have a promising career in Bollywood. The 'reclusive actor' speaks to Shobha Warrier about his first Hindi film.

What was the Rang De Basanti experience like?

It has been the most enjoyable shoot of my career, mostly due to my relationship with director Rakeysh Omprakash Mehra. He is a wonderful technician and a very important influence in my life. I have learnt many things about myself as an actor and as a person through this film.

RDB  works as a script and as a film, because of the wonderful core group and its chemistry, both on and off screen. Aamir Khan was the main catalyst in this process. He is a very secure actor and a very simple person. Rakeysh and Aamir ensured that everyone had a great time, and that shows in the film.

How much do you identify with the ideology of the film?

I don't do too many films. I have done four in as many years. After Boys, I did not want to sign a film I didn't believe in. This made it impossible for me to do many films. Aayitha Eyuthu, Nuvvo…, Chukkallo and RDB are very close to my heart, and I am proud of all of them. RDB is a very important event in Indian cinema. When I read the script, I knew it was going to be huge. The message is universal, and has been delivered in spectacular style.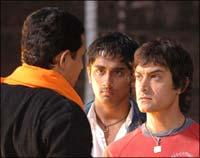 Do you agree with the end of the film?
RDB leaves you with a sense of pride; of having seen something that makes you want to think, that makes you want to do. I did not feel sad when I saw the film. I felt the boys were liberated. It makes us want to fill their shoes and carry on the good work; to follow Karan's gospel that urges the youth to join politics, the civil services, armed forces, and to clean the system from the inside out.
Do you feel frustrated with the state of the affairs in the country?
I feel chaos is necessary to retain order. India is a vibrant country. Anything is possible here. Nothing frustrates me. I am a die-hard optimist. I believe there is huge scope for change and improvement. You can't ask for a better place to want to spend your life doing what you love doing. That's why I am here, doing the work I am doing.
Did you expect this kind of appreciation in a film that had so many actors?
I don't believe in the star system. I would have wasted the next 20 years of my life and career if I had tried to be a star. I am here to be a creative professional. Currently, I want to make my name as an acting talent to be reckoned with. I am proud of RDB. I signed on because I wanted to be part of something that had purpose. Everything else is just a bonus.
Would you act in more Hindi films, or will you concentrate only on Telugu cinema?
I am primarily concentrating on Telugu films. I have a responsibility to my fans there. If good work comes my way from Mumbai, I would definitely consider it. However, it is foolish to expect films like RDB. These kind of films are not made. They just happen in a very long time.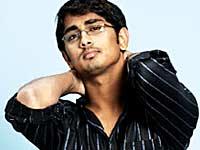 When we spoke a little after Boys, you said you did not want to be an actor, and that you wanted to be a filmmaker. But you are acting more these days. Does it satisfy the creative person in you?
I still nurture dreams of becoming a director someday. I did not expect to be an actor. Now that it has happened, I want to be the best at it that I can be. I am learning everyday. As for direction, let's wait and see.
You wrote the script of Chukkallo Chandrudu. How familiar are you with the language and culture of Andhra Pradesh?
I wanted to make a film that was urban in its construct and execution. Chukkallo was an experiment. It was made to set up the foundation for modern, young cinema in Telugu. I am very happy with the response. I wrote it based on my knowledge of the Hyderabad I have seen and lived in. I love Hyderabad and its people. I think it shows in the film.
Do you look at script writing as a step to direction?
Not consciously. I wrote Chukkallo because I am a writer. I was a writer before I became an actor. I did not use my status as an actor to become a writer. I don't do anything with an eye on something else. If direction happens, it will be my first step in that realm. I don't think I can take any steps towards it now.
When you came to assist Mani Ratnam after an MBA, did you imagine you would be such a huge success?
I came into this line of work because this is my passion, and my dream. I definitely knew in my heart that I would be good at whatever I put my heart and soul into. Success is not a divine phenomenon. It rests firmly in your ability and ambition.
What do you attribute your success in films to -- talent or luck?
I don't believe in luck. I am a self-made man. I believe in my talent and hard work.