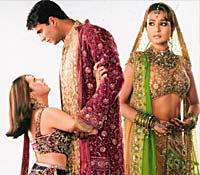 Welcome to a world where ordinary folk live in castles so huge that their voices echo (at least they do in the emotional scenes). Vicky (Akshay Kumar) harbours a dream of becoming a pop star and is supported by girlfriend Anjali (Amisha Patel). She dutifully waits for him every evening and forgives his every mischief. Disturbingly, that's all she does. An educated, sensible girl, she isn't pursuing a career, doesn't even hold a job and has no plans to study further.
Enter Natasha (Karishma Kapoor), the third point in this flogged-to-death love triangle.
There is also an absolutely unnecessary sub-plot about two musical show organisers -- Morani (Gulshan Grover) and Torani (Ashish Vidyarthi) -- out to get Vicky for refusing them a show. These lisping (it's supposed to be funny) 'villains' hire two badfellas called Tarzan and Tiger (chuckle), who don't look menacing enough to hurt a fly. They disappear somewhere in the middle to come back for the climax.
| | |
| --- | --- |
| | More on rediff.com! |
| | |
Natasha, owner of a music company called Angel Music, offers Vicky a job and promises to make his dreams come true. But there's a catch. It turns out she has loved him since they were in college and has floated a music company just to make him, well, her 'jeevan sathi'. So they fly off to the US, where she makes a pass at him. He resists at first, but then....

From then on, Natasha follows him everywhere, demanding her rights, appearing out of nowhere like a ghost. So far, she was a wacky CEO, ready to undergo business losses to promote her object of affection. Now, she turns into a full-blown psycho, slitting wrists, dancing feverishly on glass, plotting murder and the like. The rest leads to a clichéd and bizarre ending, so let's not go there.

Everything about this film seems hackneyed. Romantic scenes between lovebirds Vicky and Anjali include sharing a melting ice cream that leads to you-know-what.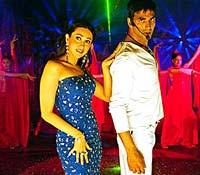 The dubbing is often out of synch and the cinematography is unimaginative. The dialogue, though attempting to intersperse casual English words, is still stuck in a time warp. The music by Nadeem Shravan belongs to decades ago. Karishma looks fabulous though. She is subtly sensuous and, for once, not dressed outrageously. One wishes she had a better comeback vehicle. Amisha Patel too has a fabulous wardrobe and looks spirited.
Frankly, then, the film belongs to the two actresses, especially Karishma. Akshay looks tired throughout. He needed better make-up and some wardrobe sense. Also, he may be cool, but to have him play a college kid is a bit of a stretch.
After the debacle of Dosti, Suneel Darshan should have thought some more about releasing this. Why make a film on a story that has been told a zillion times? And, if making inspired films is your thing, why not rent an award-winning Hollywood flick?

I am not advocating it, but it certainly is the lesser of the two evils.