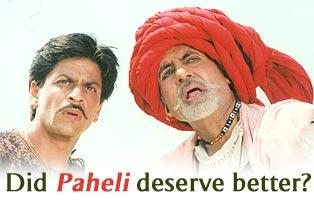 The Oscar Nominations have been announced, and India has not made it.
Amol Palekar's Paheli was overlooked, the five nominees for Best Foreign Language Film being La Bestia Nel Cuore from Italy; Joyeux Noel from France; Paradise Now from Palestine; Sophie Scholl - Die Letzten Tage from Germany; and Tsotsi from South Africa.
Do you think the fairytale starring Shah Rukh Khan deserved better treatment? Should it have been marketed differently? Did Bollywood support India's official entry as much as it needed to? 
Or is this just another case of the Oscars overlooking films it cannot understand?
Should Paheli have got an Oscar nomination? Give us YOUR verdict.