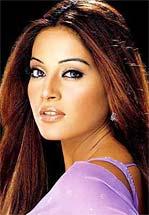 Bipasha Basu is peeved over a Mumbai newspaper's report about her playing Draupadi in Rituparno Ghosh's forthcoming Hindi-English bilingual of the same name.
Talking to rediff.com, the actress refused to discuss the film as she felt "it would not be professional to comment on a project which is still in my mind".
"There is nothing official about me acting in Ritu's film as yet. Ritu and I had a discussion and he showed interest to cast me in the role. I have reciprocated positively," she added.
"He has the mammoth task of finalising the details of such a complicated film. Once he is through and I sign on the dotted line, [then] I will be in a position to talk about Draupadi." 
Ghosh, however, confirmed he has found his Draupadi in Bipasha and that his long search for a "dark actor" for the title role of the film culled from the Mahabharat has ended.
"I always wanted to do a film on Draupadi, a ravishing combination of beauty and brains, how she epitomises power and how she is an extension of Kunti, the mother of the Pandavs," Ghosh had said in an earlier interview.
"For the past few years, I have concentrated on several nuances of the epic. The film will be a reflection of my thoughts," he adds now.