He may have taken on the risk of remaking the 1978 blockbuster, Don, starring Amitabh Bachchan, Zeenat Aman and Pran, but Farhan Akhtar claims he is not competing with the original. Re-making Don is simply his way of paying tribute to a film he enjoyed watching as a child, and to its stars and makers.
"While retaining the essence of the film, I have tried to make it with my own perspective," said Farhan, who made his debut with the hugely enjoyable Dil Chahta Hai, starring Aamir Khan, Saif Ali Khan, Akshaye Khanna and Preity Zinta. "I am very excited about making Don. The feedback from those who have watched it has been good. It has elements of fun, thrill and adventure. It will be an exciting film."  
Speaking about the cast of Don, he said, "Shah Rukh Khan plays a double role and has sung a portion of the song Khaike Paan Banaras Wala. Then there is Priyanka Chopra who plays the role played by Zeenat earlier. I was very excited about the fact that Priyanka chose to do the stunt scenes by herself. It made the shot look more believable. It gave me scope to cover fight sequences from all angles, without constraints. If the stunts are performed by someone else, we have to shoot the scene so that the double's face is not seen. For Priyanka, too, I think it was an enriching experience."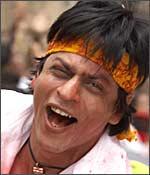 The abundant use of new technology is already evident from the hitech look of the movie's promos. Farhan says, "Don is a film that utilises technology and I have used whatever I think is useful for the film. There is nothing in the movie that has been put there because it looks or feels good. It's all there because it needs to be there. Even the gizmos that we have used in the film are very intrinsically built into the screenplay.
"Shah Rukh has done a fantastic job. He has public acceptance to begin with and I am confident people will love him in his Don avatar," he adds.
Asked why he chose to retain two songs from the original, he said, "Those songs are very intrinsic to the memory and love I have for the original Don. There are things in the movie that make it special for me. Like the background score of the film, these two songs, certain dialogues, certain situations are a vital part of the movie and I thought it would be a crime on my part not to have them in the remake.  
The music of the film is by Shankar, Ehsaan and Loy who worked with me on my last two productions. They have created a very modern sound, keeping in mind a slightly retro element which harks back to the 1970s. I think they have managed to achieve something special."  
But why remake it in the first place?
Farhan said, "I chose to remake the film because I am excited about it. The styling and the treatment of the film is new. It's paced and written with dialogues that work more with today's time and there are certain story changes which I can't reveal.  
"We have tried to create an individual style for Shah Rukh in the film. He is a gangster and we normally associate gangsters with suits but I wanted to give a little twist. So designer Aki Narula came up with the idea of getting him to wear printed shirts with similar printed tie's. But we didn't want him to look just suave; we wanted a ' suave-bhai', so the tie is inside the shirt and not out. I quite liked the way it looked, and so we incorporated that in his look.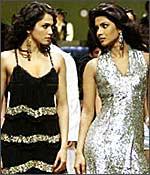 "It is pointless to be bothered about the comparisons that will happen. I don't worry about that because I am quite certain people will compare. I spend most of my energy and waking time working on the film. My guess is that the closer I get to the release of the film, I might think more about it."  
His father, Javed Akhtar, who has written the screenplay for the movie, said, "I have seen one reel of the film. If the rest of the film is as good as that film, I think it will be fantastic. It's very elegant, neatly done. It's very today and very stylish. They have updated the screenplay, modernised it and made it in their own way."
After the release of Don, Farhan will act in Anand Sorapur's Fakir. Then there is Luck By Chance with Tabu directed by Zoya Akhtar. "I had started acting in Fakir before we started work on Don. We will recommence shooting in November. For me, Fakir is now a four-month-old story and to get into the same mode as I was then, will be difficult. I am playing the role of a production person in the media, called Adi Contractor, who has been given the responsibility to find a person to take him to Venice for an exhibition," Farhan said.
Speaking about the lessons learnt in his new avataar as an actor, Farhan says, "While directing actors, it's very important to understand them, their insecurities and where they come from. The writer and the director live with the script much before it reaches the actor. So sometimes it takes time for the actor to understand what the director wants. But approaching the process from the other side has been quite a learning experience for me. My acting sessions have taught me how I can better deal with actors. Remember, BOTH acting and directing are extremely difficult. As much as you enjoy what you do, you need to put in a lot of hard work. It is good only when one works towards it."
Next, Farhan will direct and produce Love Story, besides his forthcoming production Honeymoon Travels Pvt Ltd.