Is it about a hyperactive single woman? Is she still gung-ho about her ex-fiance who ditched her last minute? Does she hire an escort to play boyfriend during her sister's wedding? Is the wedding in London? Is the escort a charming all-rounder with a cleft on his chin? Is the girl's family a complete circus? Is the girl's sister hiding an important secret? And is there a huge mansion with pretty lawns where the family plays cricket?
Oh my God, yes!
Aap Ki Khatir is such a faithful rip-off of The Wedding Date that the films look like twins.
Right from the first scene, when the heroine sleepily responds to the answering machine, to a climax full of confession and confusion, Aap Ki Khatir is a replica with no mind of its own. Plagiarism is not new. What I can't get over is why remake a run of the mill, dumb Hollywood movie like The Wedding Date?
In the past, director Dharmesh Darshan has packaged Jab Jab Phool Khile as Raja Hindustani, Caravan as Mela and Gumraah as Bewafaa. This time he picks the Debra Messing-Dermot Mulroney starrer to do the needful.
India-based Anu (Priyanka Chopra) flies to London to attend her stepsister Shirani's (Amisha Patel) wedding to Kunal (Sunil Shetty). Accompanying her is a professional escort, Aman (Akshaye Khanna). The idea is to make Anu's erstwhile boyfriend, Danny (Dino Morea, playing the dreamy-faced jerk yet again) extremely jealous.
While they are at it, Anu and Aman shop, visit nightclubs, practice ballroom dancing, hit boundaries off the bat, mock make-out in vintage cars, and generally capitalise on their London visa.
In addition to promoting tourism, this also gives Darshan a chance to insert half a dozen Himesh Reshammiya songs. It's amazing how his flamboyant foot-tappers compliment Priyanka and Amisha's tacky wardrobe. Except in casual attire, these girls look straight out of a Barbie store with ornate brooches on frilly pinks.
The big fat freak wedding ensues in crazy cacophony. Anu and Shirani's Mummy-Daddy (Anupam Kher, Lillete Dubey) represent the typically filmi, over-the-top Punjabis, you know, the kind you see in Yash Chopra and Karan Johar's 'family' flicks.
Conversely, Kunal's folks (Tiku Talsania, Kamini Khanna) play the boisterous, snack feasting, broken English-speaking Gujaratis from New York.
If Darshan's intention is to cash on the Kantaben vs Lajjoji humour of Johar's Kal Ho Naa Ho, he messes up pretty bad. All you have here is a gallery of obnoxious caricatures making a wedding ceremony look like a sports day function.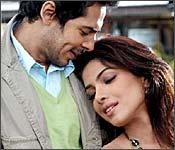 God bless Akshaye Khanna. A chilled-out messiah in this motley of over-enthused nuts, his winsome smile, breezy wit and polished screen presence shine even better in the company of ineffective co-stars. Priyanka Chopra's Anu is erratically sketched. Her character is never consistent: first flaky, then cool, and later, sensitive. Plus you (or she) never really find out why Danny dumped her in the first place. So I guess that makes her dense, as well. Chopra does have charm though, and should do better under the guidance of a skilled director.
And then there is Amisha Patel. What's with all that mascara, girl? In any case, she has precious little to do. She says her lines, flutters those eyelashes and looks mostly bored to tears. Her romantic scenes with a heavily miscast Sunil Shetty make for agonising viewing. It's a how-not-to-act demonstration.
In terms of chemistry, none of the actors share any vibes. If you discount all the superficial hugs and muaahs, there is no visible warmth or spark between siblings, lovers or their ex-flames.
Despite its many minuses, Aap Ki Khatir is still endurable on account of its running time of just 130 minutes. Watch it only Akshaye ki Khatir but at your own risk.
Rediff Rating: