Several Indian-American community organisations came together to bid farewell to actress Padmini, who will shortly relocate from New Jersey to Chennai.
"I have a house in Chennai. I also have some offers for acting in films," she told India Abroad. She said though she will now be based in Chennai, she plans to return often to the United States.
"It will all depend on my mood," the actress, who played the female lead in Raj Kapoor's Jis Desh Mein Ganga Behti Hain, said.
Her only son Prem Ramachandran, who works with Warner Brothers, will move to her Hillsdale, New Jersey, home once she leaves the US, she said.
At farewell receptions last month, Indian-American community leaders spoke of the versatile career of the actress, the middle sister and only surviving member of the Travancore Sisters (actresses Lalitha and Ragini were the others), and her contribution to the life of Indians in the US.
At a reception hosted by the TV Asia channel and the Indian American Dance Institute of the United States, H R Shah, chairman, TV Asia and Krauzer's Food Stores, spoke of his personal relationship with the family for over 33 years. At one time, he said, he worked in medicine thanks to the encouragement of Padmini's late husband Dr Ramachandran, who died in 1981 aged only 49.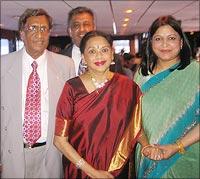 A plaque was presented to Padmini (in maroon sari) highlighting her lifelong accomplishments and her contributions in establishing and pioneering Indian classical dances in the United States. It was Padmini who started the first school for Indian dance in the Western hemisphere in the 1970s, the plaque noted.
A visibly moved Padmini, 74, thanked those present for their love and affection, and spoke of her desire to act in character roles in South Indian as well as Bollywood films; she hoped to pick up her film career where she had left it, she said.
Reminiscing about her life as one of the famed Travancore Sisters, she spoke of a trip to Moscow where she met Raj Kapoor and actress Nargis, and spoke of the great impact Raj Kapoor had on Russia. Her roles in Raj Kapoor's Jis Desh Mein Ganga Behti Hain and Mera Naam Joker brought her international recognition, she said.
She spoke too of her last films, the blockbuster Nokketha Ddorathu Kannum Nattu by Malayalam director Fazil in the late 1980s, and Dollar, which was made by the US-based Raju Patel in the 1990s.
A native of Trivandrum (now Thiruvanathpuram) in Kerala, she was introduced to the film world by the legendary dancer Uday Shankar, who saw her dance when she was 14. She speaks six languages, and dubs for all her characters. Her dancing skills were widely admired; the late Shivaji Ganesan, doyen of the Tamil screen, was once moved to comment 'I know only one dancer, it was Padmini.'
Elsewhere, the Indo-American Festivals committee gave Padmini a farewell reception on a cruise ship. Mangal Gupta, chairman, Indo-American Festivals, noted, 'In 1970 when I was member of the managing committee, the first Hindu temple in North America was in the planning stage. Padminiji came to the US at that time, and gave her first sold-out performance in Hunter College, and all the proceeds went to the Ganesha Temple.'
She continued to tour the US and Canada for the benefit of the temple, he said. The audience was also treated to a half-hour video presentation on the life and times of the dancer-actress.